Fashionoffice Spring/Summer 2017 tips for urban bikers A favor of bikes in the design of a scooter - whether driven by electro battery or fuel tank, is that shoes keep clean...

Vienna Insight: Marionnaud invited to a beauty tour Nail polish, treatment by Ciaté London, purifying mask by Dr. Brandt, lipsticks by Givenchy, body skin care by Baija Paris,...

Fashionoffice SS2017 tip: Mother & Child street style
For walking with children through the city, Bike Vienna and Scooter Vienna sent tips for motivating kids to start...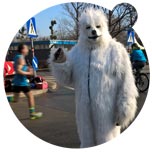 Vienna marathon running year 2017 has started Normally, Vienna's running events are scheduled in spring each year. Brand new is the Eisbärlauf (Ice Bear Run)...

Fashionoffice tips for wedding dress, shoes and beauty The wedding style Spring/Summer 2017 tip is focused on 'saving money' and 'looking great'...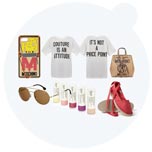 Fashionoffice SS2017 tip: Inspired by Milan Fashion Week One of the highlights of Milan Fashion Week was Moschino. Fashionoffice collected some pieces and...

La Prairie 'The Art of Beauty' concept extended with new partners hotel Zhero in Ischgl/Kappl and Art Basel/Basel The Swiss beauty label's new partners...

Fashionoffice SS2017 tip: Athleisure style Body consciousness in fashion isn't new. It's one of the motivating forces why clothing, shoes or accessories are designed...

Fashionoffice spring 2017 tip: Cosmopolitan Style
Fashionoffice collected several pieces - fashion, jewelry, beauty, perfume - for the 'Cosmopolitan Style'...