19 February 2017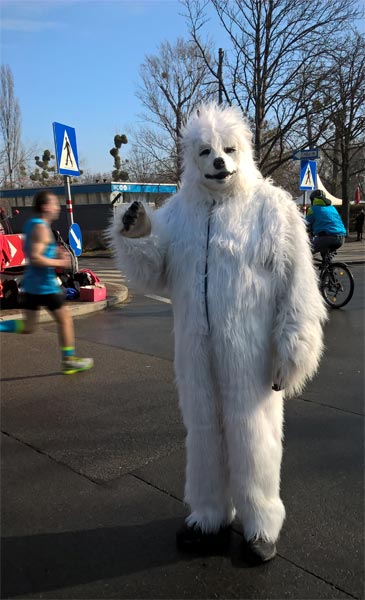 Vienna marathon running year 2017 has started
Normally, Vienna's most important running events are scheduled in spring each year. Brand new is the Eisbärlauf (Ice Bear Run) series which started already during ice cold winter. (The photo on this page is from today and shows the mascot of the new marathon series, an ice bear.) The first ever run happened on 22 January at Prater, a former hunting forest and today the people's recreation area embedded into a widespread woodland which is also one of the 'lungs' of the city. The best place for refueling with fresh air!
The image on this page was shot at the start/finish of the 2nd Eisbärlauf by the running and condition club 'LCC' (Lauf- und Conditions Club) on 19 February. The LCC was founded in 1977 at the Prater as organization which is dedicated to training and know-how for runners. In the meanwhile, the LCC extended its activities and included additionally to running other athletics disciplines.
Runners aged early 20 up to 60/70 years were seen at today's Eisbärlauf. The exact year of birth of each participant is published at the result statistics. Most of the runners showed a surprisingly good condition - especially for a winter run in February, long before the annual running season has started. Only badass runners use outdoor routes for training in winter! And there were a lot of runners on the road - cyclists had almost no chance to cross. The next Eisbärlauf is the 3rd and will happen on 19 March.
The following three runs count to the top events in this discipline in Vienna; each of them uses traditionally the green lung of the Prater as part of the tour or happens entirely there:
23 April Vienna City Marathon goes partly through the Prater. The map shows the course beginning at the UNO building complex, leading over a bridge to the Prater, from there it goes to the Ring to the Schönbrunn Castle and then back to the Ring, around the Inner City of Vienna, through the Prater again and back to the Inner City of Vienna.
7 May The Austrian edition of the globally at the same time starting Wings For Life World Run goes from the Vienna City Hall along the prominent boulevard Ring where the Parliament, State Opera, etc are located, passes other city hotspots before the course leads through the Prater and from there to the Danube Island (map).
21 May The 30th edition of the Austrian Women's Run (Österreichischer Frauenlauf) happens entirely at the green Vienna Prater (details).