11 April 2016

Selfridges London 'Body Studio' presents fashion, fitness, health, nutrition under a holistic approach to beauty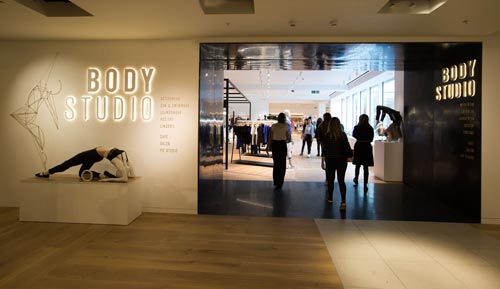 On 10 April, Selfridges published the 360° video (embedded below) of the 'EveryBODY' campaign on occasion of the opening of the 'Body Studio' on 37,000 square feet earlier this month on 4 April at the store on Oxford Street in London. The concept of the Body Studio bases on a holistic approach to beauty and presents fashion from lingerie, loungewear to athleisure and wearable technology. At this new place, beauty isn't defined by norms but women's own individual demands and preferences concerning clothing, fitness, nutrition and health.
fig.: Selfridges London opened the Body Studio on 4 April 2016. It's the largest department ever opened by the London store. Photo: © Matt Writtle 2016.
The 'EveryBODY' 360° video under the motto 'Love Your Individuality. Revel In The Crowd' shows women walking in a circle (move the screen with the mouse!); they embody various styles and express them in the way they move and what they wear. The 'EveryBODY' video is choreographed by Wayne McGregor and shot by Norbert Schoerner. It appears on YouTube as teaser for the Body Studio pages on Selfridges.com where at The Shoot, women of the campaign answer questions about profession, strategies to stay healthy, and self-perception. At the end of each interview, the link 'Shop The Shoot' leads to the online store where bodywear (Adina Reay, Wolford, Spanx,...) worn by the women for the campaign can be bought.
The Body Studio online pages contain also a booking tool for talks (such as a BodyTalk about fitness activities as community builder) and workouts.
The 'EveryBODY' campaign is the first advertising work by multi-award winning British choreographer and director Wayne McGregor. Wayne McGregor will curate a series of impromptu dance performances by female choreographers to take place, unannounced, on the shop floor of Selfridges London.