Nature on skin and nails, in living rooms and hotel suites
In late May 2012, Fashionoffice collected pieces and information which are following the idea of co-existing with nature: an interior piece inspired by the Mediterranean nature and outdoor 'living-rooms', a soap made of bio-ingredients, eco-nail colors, and the next eco-fashion fair 'Green Showroom' in July in Berlin.
fig. left: Magazine holder 'Enrico' made of fur from the 'Travel in Tuscany' collection by Flamant, Summer 2012. The Belgian provider for interior and outdoor furnitures for hotels, restaurants, private homes (stores in more than 20 European countries) was inspired for the collection of the summer 2012 pieces (limited edition of 20 to 50 from each model) by the Mediterranean colors of the sea, the beach, the sun ('Portofino Chic'), the nature of the Toscana in Italy, outdoor 'living-rooms' and the style of the 50/60ies.
fig. right: Soap in cookie design named 'Badebusserl' (could be translated with 'Bath-Kiss') made of bio-milk, aloe vera, minerals and vitamins by the Austrian label Alles Seife. The Bath-Kisses are available in two scent compositions: 'Busserl für dich' is scented with roses, Ylang Ylang; 'Busserl aus Wien' is inspired by the Viennese coffee house tradition and smells after vanilla, marzipan and honey. The word 'busserl' has two meanings in Austrian German: first it means a smack, a form of an 'innocent' kiss; secondly, it's the name for a cookie. The bath-kisses were launched with the headline 'Ab sofort wird in der Wanne gebusserlt' - which is not easy to translate because the sentence plays with the double-meaning of the word 'busserl' while bathing. The cookie alike designed Badebusserln are decorated with hearts, lips and amour angels. Photo: (C) Alles Seife.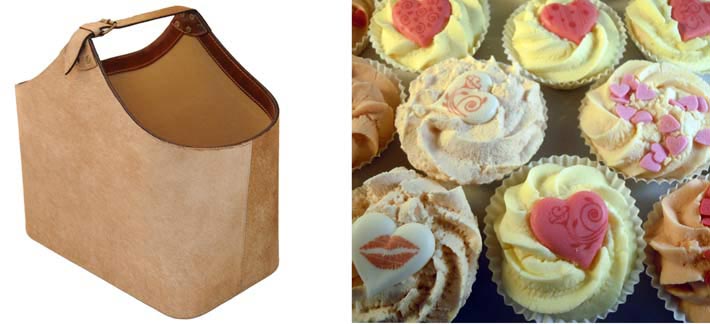 fig. left: New eco-nail lacquer (reduced use of chemicals; 85% ingredients from nature such as potatoes) decorated with African flower by Kure Bazaar. The eco-luxury label Kure Bazaar premiered this year at the Organic Fashion Haute Couture show of the Japanese designer Yoshiki Hishinuma during Paris Haute Couture Spring/Summer 2012. (Video: Report from backstage and views at the Yoshiki Hishinuma Organic Fashion Show in January 2012, introduction into the philosophy of Kure Bazaar.)
fig. right: Insight into one of the suites at the Hotel Adlon in Berlin on occasion of the eco-fashion fair Green Showroom. Labels from fashion, beauty, lifestyle will present their (fair and sustainably produced) goods from 4 to 6 July 2012 during the Berlin Fashion Week at the Green Showroom, Hotel Adlon. Photo: (C) Andreas Strauss.