VIENNA INSIGHT by publisher Karin Sawetz, March 2011
Karin Sawetz is journalist, media researcher and fashion scientist (Mag. Dr. phil.).
Sustainable body forming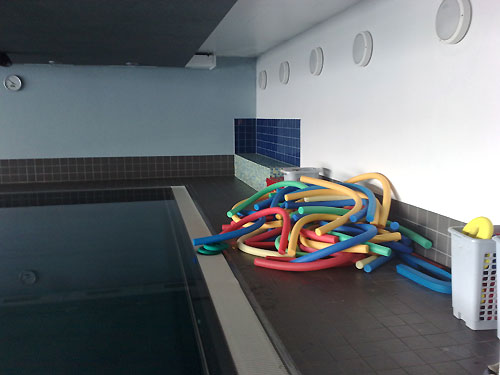 Each year in spring, the figure of the body is a big theme in magazines; especially in women's magazines. Heavily promoted body-shaping methods are surgical corrections, although they are cost expensive, probably not the best for the body's health and they are stressing the psyche.
Everybody knows that. Even the knowledge that healthy nutrition and fitness trainings are leading to sustainable anti-aging effects is distributed well to the heads of magazine readers. A brand new fashion is to get professional advice from specialised medics (seen at Woman & Health) and body trainers about the best tricks to achieve a beautiful appearance, greater health and a younger body without surgical interventions.
fig.: On occasion of 'One Vienna in motion' on 12 March 2011, I have visited the Holmes Place Health Club in Vienna and participated in a water fitness training for building muscles and stretching. The program on the 'One Vienna in motion'-day was extensive - Holmes Place introduced to several new courses and training methods such as the new fashionable water course 'Aqua Zumba' with Latin-American dance rhythms for strengthening the body and its mobility. Side effect of the training is the reinforcement of skin elasticity, and the activation of the circulation and happiness hormones, which apply a fresh teint to the face.