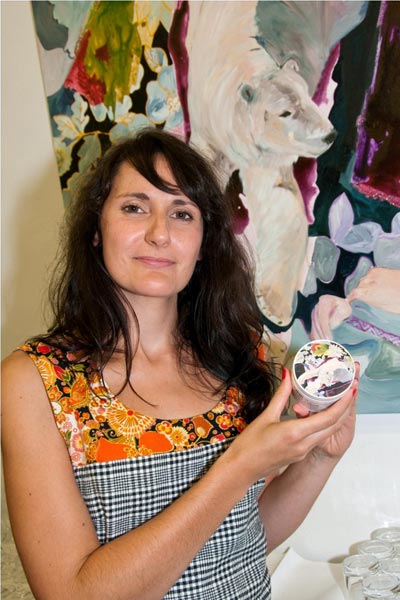 fig.: Elisabeth Wedenig (born 1980 in Carinthia, AT) holds Kiehl's 'Ultra Facial Cream' and shows the art work 'Ice Flower' - image of an ice bear surrounded by flowers, at the top of the box. The painter focuses in her work on nature and outdoor daydream atmospheres. Wedenig studied at the Academy of Fine Arts Vienna (Art Education, Textiles, Fine Art) and has collected experiences at the Riga Art Academy in Latvia and the Athens Art Academy in Greece.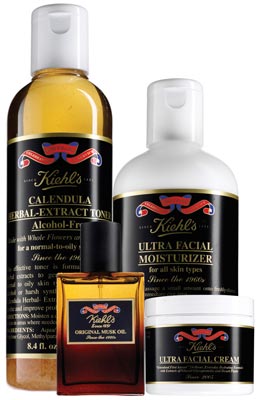 fig.: The Ultra Facial Cream belongs to the classical favorites of the customers and to Kiehl's 'Heritage'-collection which is available in a special, limited edition worldwide since October 2011.
Nature addicted artist and a cream for glacier & snow adventurers
In October 2011, legendary New York East Village apothecary Kiehl's (founded 1851) released on occasion of its 160th anniversary a special Austrian 'Ultra Facial Cream' edition presenting the artwork by painter Elisabeth Wedenig.
The art-beauty collaboration premiered at the Viennese gallery 'Bäckerstrasse 4' where the Austrian 'Platform for Young Art' - the organizers of the art-beauty collaboration, resides.
Kiehl's is known to cooperate with artists and musicians such as Jeff Koons or Pharrell Williams. It's the first time that Kiehl's Austria (the label belongs today to L'Oreal) works together with a young Austrian artist.

fig. below: 'Ice Flower' is the name of Elisabeth Wedenig's painting. It references Kiehl's sponsoring of a Greenland expedition in May 2005. The label used the sponsoring to test the qualities of the cream which is developed to moisturize the skin in extreme climate like cold. The cream in 'Ice Flower'-box is available in a limited edition at Kiehl's in Austria.