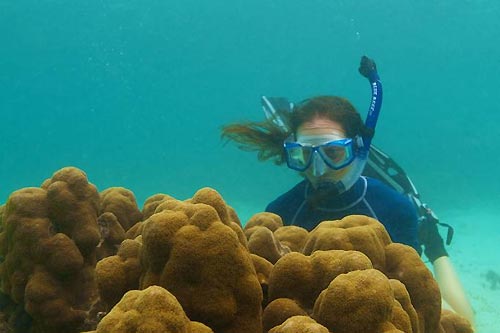 summer 2011
The glamorous side of research
Céline Cousteau represents a new style of research with a touch of adventure and the glam of the beauty world.
fig.: Céline Cousteau in the 'field' - underwater in Papua New Guinea. Photo: (C) Capkin van Alphen / CauseCentric Productions.

Céline Cousteau is born 1972 in California and lives in New York. She follows the footsteps of her grandfather - the filmmaker, scientist and ecologist Jacques Cousteau. She makes movies and holds lectures about the protection of the environment, especially the eco-system of the oceans. In April 2010 for example, she joined the TED (Technology, Entertainment, Design) / Mission Blue-voyage to the Galapagos celinecousteau.wordpress.com/2010/04/13/ted-and-mission-blue-galapagos-april-2010/ and held there a lecture with the title 'Relating to the Ocean through Emotion'.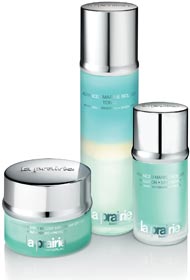 fig.: Advanced Marine Biology Collection (tonic, fluid for day/night, day cream SPF 20) by La Prairie, premiered in September 2008.
For the Swiss label La Prairie, Céline Cousteau promotes the Advanced Marine Biology Collection which is developed from a new approach to skin care that combines luxury, ecology and the newest technologies; La Prairie entitles the leading idea of the conception with the keywords 'Eco Luxury'. The ingredients from aqua cultures (algae, seaweed) are cultivated on land without harming the ocean.