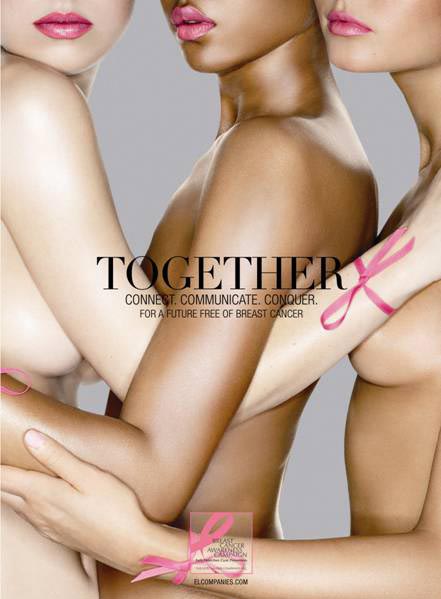 fig. above: The campaign image was captured under the motto 'Together. Connect. Communicate. Conquer. For a Future Free of Breast Cancer.' by US fashion photographer Michael Thompson, a former assistant of Irving Penn. Beneath his work for advertising clients (Clinique, Chanel, Elizabeth Arden, L'Oréal, Aveda, to name a few), he is known for contributions to magazines like W, Details, Allure, Harper's Bazaar, Vogue, Vanity Fair, GQ...
fig. left: 3 different 'Long Last Glosswear SPF 15' by Clinique on a key tag with a pink heart showing the ribbon. The key tag is one of the products which is sold during the time of the campaign; comes into shops in September 2011.
Beauty for health
Estée Lauder is probably one of the most active beauty labels in breast cancer awareness campaigns. Each year, Estée Lauder invests creative work to communicate the importance of medical prevention and collects with several products money for the research of breast cancer.
For the 2011 campaign in October, James Gager (Senior Vice President and Group Creative Director of MAC, La Mer and Jo Malone worldwide) and Antonia Lakis (Vice President MAC Design) developed an artwork that reflects the vulnerability of the body and at the same time its beauty. The motto are keywords which stand for important values of today's society like the spirit of sport and social media competence.
The result is a power/hopeful campaign staged by fashion photographer Michael Thompson, who translated the message for more action against the health risks in life with three models - covered by nothing more than their own skin, and connected by the hands. On their arms, the models show pink ribbons, which are the international signs of the campaign. The 'Pink Ribbon' was introduced by Evelyn H. Lauder (Senior Corporate Vice President Estée Lauder Companies Inc.) in 1992.