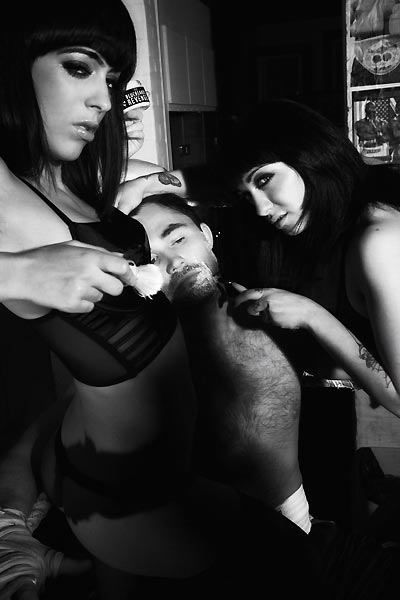 fig.: 'Train Hard Shave Easy With The Bluebeards Revenge' showing Bedford Blues rugby star Sacha Harding. In the campaign video, Sacha Harding trains at the gym before he gets a shave by two women. The campaign was photographed by Mark Hatton; the video is produced by Glenn Thyer.
MEN's & WOMEN's SHAVING
spring/summer 2011
Men's shaving cream used by women
In May 2011, the UK label 'The Bluebeards Revenge' has sent right in time for summer activities the information about the 'Shaving Cream' - originally designed for men (even used by women) with an additional feature (ingredient 'Declerine') which reduces hair growth.
There are many things to say about the label and the product such as that the packaging is totally recycable; The Bluebeards Revenge donates money from the purchases to injured firefighters; or that the men's shaving cream is also used by women...
But what really attracted Fashionoffice was at first the name 'The Bluebeards Revenge' which remembers the French tale (17th century) of 'Bluebeard' - a rich man with an ugly beard who had the bad habit to murder his wives, and secondly the campaign image on this page.

Tom Truman (brand spokesperson) reports: "Despite the product being heavily aimed at men with heavy beard growths, we started noticing a quarter of customers buying were women. We presumed at first they were buying for their husbands, but the trend continued and is now accounting for half our sales." Women are using the shaving cream to reduce the hair growth on legs, underarms, and bikini line.