BIOTHERM HOMME
spring/summer 2008
The Anti-Fatigue program
This is not an entertainment program; it's a program for men's skin!
In spring/summer 2008 Biotherm launched the new Anti-Fatigue program "High Recharge" for men. The highlight of the program is the anti-fatigue cold serum for the eye area: the roll-on treatment acts cooling on tired eyes and gives them a relaxed and radiant look again; it also helps erase dark circles.
How to wake up eyes
With the roll-on the tired zones can be relaxed with circular massage movements; the ingredients refresh and wake-up men's eyes with ginseng (stimulates skin micro-circulation), Thermal Plankton (reactivates the skin's natural internal defences against external aggressions), caffeine (against undereye bags).

Quick regeneration for the skin
The second new product is the "flash" mask with a cocktail of vitamins, ginseng, a formula of fruit acids (orange, lemon, blueberry peels the skin and smoothes it) ... that regenerates the skin in 5 minutes and keeps it moisturized for 24 hours.
The market of men's skin care
Since many years it is easier for women than for men to find good products for their skin. In the last years even men's skin came into the focus of producers of dermal care. One of the reasons could be that men thought for a long time they are always looking good; even when their skin looks old, less radiant and not healthy.
Old skin is not a matter of chronological age alone; it depends if he is too long under the sun, has not enough sleep, stress ... Male skin is stronger than women's but even men's skin can be harmed: climate variations (wind, cold, heat, sunlight, etc), daily shaving, late nights, jet lag, overactive lifestyle ... affect the condition of the skin.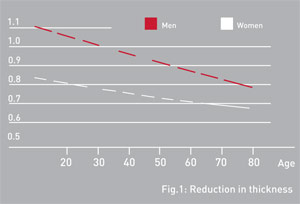 Since around 2000 biologists worldwide create constantly new products that fight for a healthy men's skin at every stage of life. The market for these products increased with the needs of men and the consciousness for skin protection and care. Biotherm was one of the first brands who recognized this market. The brand Biotherm Homme was launched in 1985 www.biothermhomme.com

Differences between male and female skin
On the following graphics (source: Biotherm Homme) you can see the difference between female and male skin: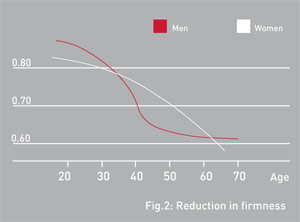 "The male skin stays younger and retains tone longer than female skin. The first signs of aging appear later, at about the age of 30. But once the aging process begins, the skin's underlying cushion literally "melts away". Skin thickness diminishes rapidly (Fig.1), and wrinkles and lines deepen, especially on the forehead, cheeks and around the eyes.




At about age 50, firmness radically diminishes by more than 20% before stabilizing once again (Fig.2). Wrinkles become more numerous and deeper. Tissues slacken (Fig.3), which leads to visible facial sagging." Biotherm Homme