Nail lacquer inspired by the movie 'Fifty Shades Of Grey', 3 January 2015

The impact of the upcoming movie 'Fifty Shades Of Grey' on colors for nail lacquer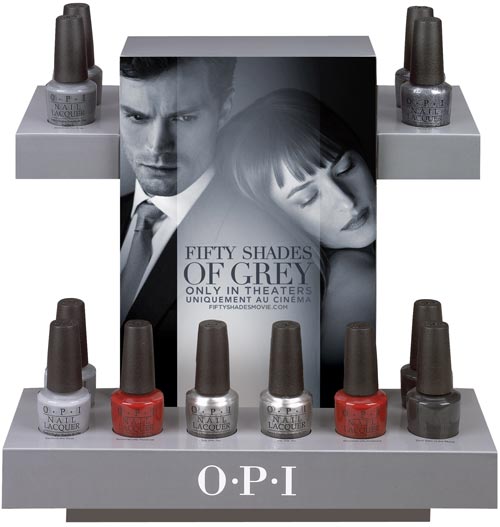 Right in time with Valentine's Day, the movie after E.L. James' bestseller novel 'Fifty Shades Of Grey' will come into theatres worldwide. It's very rare that the film industry organizes a release date so well that countries all around the world can enjoy the start of a movie at the same time! The (dubious-) romantic story about a man (billionaire) and a woman (student) in unequal power-relation fascinates people and inspires for collections such as the range of six nail lacquers by OPI in three grey colors, two silver tones and one in deep red.

fig.: The image shows the store-display of the OPI 'Fifty Shades Of Grey' collection, available from January 2015 in limited edition. The names of the silver, grey and red lacquers such as 'Cement the Deal' (stone grey - reminds the distance between the partners and the dominance of the male character Grey), 'My Silk Tie' (silky silver - makes think of bondage) or the only red lacquer with the title 'Romantically Involved' express the various stages of the relationship of the 'Fifty Shades Of Grey' characters.
Whatever the attitude towards the story and the power-relation of the couple is; the trailer for 'Fifty Shades Of Grey' provides a preview to an elegant, sparkling, SadoMaso kinky sex entertainment. And with the music, the producers have landed another coup: the sexy waltz 'Earned It' by The Weeknd (part of the movie's official soundtrack) was released around one week ago and climbs currently the Billboard and Spotify (Viral 50, Global) charts.


more beautyme>