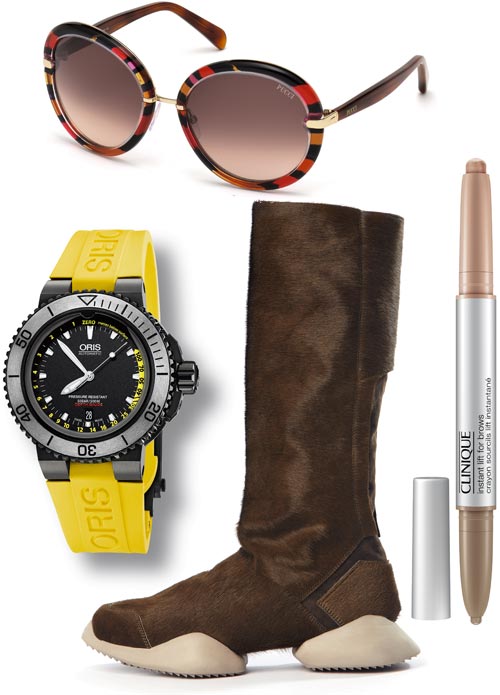 Fashionoffice selection,
2 February 2015

Fashionoffice selection of 4 items which impressed
The four pieces were presented recently: the sunglasses by Emilio Pucci were launched during the latest Paris Fashion Week at the end of January, the stretch boots in fur look by Rick Owens premiered at the Fall/Winter 2015/16 catwalk in Paris, the yellow diving watch by Oris (water resistant down to 500 metres, with special depth measurement technology) is announced for May and the cosmetics tool for eyebrows is from Clinique's trend statement for this spring.
Let's start with the 'Instant Lift For Brows' from the current Spring collection by Clnique. The brand sent the tip as part of the 'Clinique Spring Trend Statement 2015' which can be summarized as instruction to apply 'Love Radiation' to the face. The eyebrow stick has two sides: one is a wax-like texture for the definition of the brows; at the other side, the highlighter with its reflecting particles is for lifting the brows visually. The 'Instant Lift For Brows' is available in various color combinations and is the only piece on this page which is already in stores now.
The fur-like Runner Stretch Boot from the adidas by Rick Owens Autumn/Winter 2015/16 collection will come into stores in mid-July 2015. The boots premiered during Paris Men's Fashion Week in January and belong to a collection of ankle (19 cm) and high boots (40 cm) in men's and women's sizes. All of them are made of the stretch fabric Velcro, mainly with suede surface except the one on this page which looks like pony-fur.
The diving watch 'Aquis Depth Gauge' by Oris with yellow rubber band will be available from May 2015. The watch with patented depth measurement premiered already 2013 (details); the color is new and useful when - for example - the watch falls from the boat into deep water because it was taken off for slipping into the tight diving suit.
The sunglasses on this page are from the new collection FW2015/16 by Emilio Pucci in collaboration with the Italian eyewear producer and distributor Marcolin. The collection was launched worldwide on 28 January in Paris and plays with the signature patterns of the Florentine fashion house. On view on the image above are the EP0012 sunglasses with 'Zadig'-print which looks like the natural form of the coast of Capri where the waves of the Mediterranean Sea are breaking for floating back to the sea; an environment which inspired Emilio Pucci who was also called 'The Prince of Prints'. The eyewear collection will be distributed from March 2015.