23 July 2015

Makeup artist Molly R. Stern for Cara Delevingne at the movie premiere of 'Paper Towns' in New York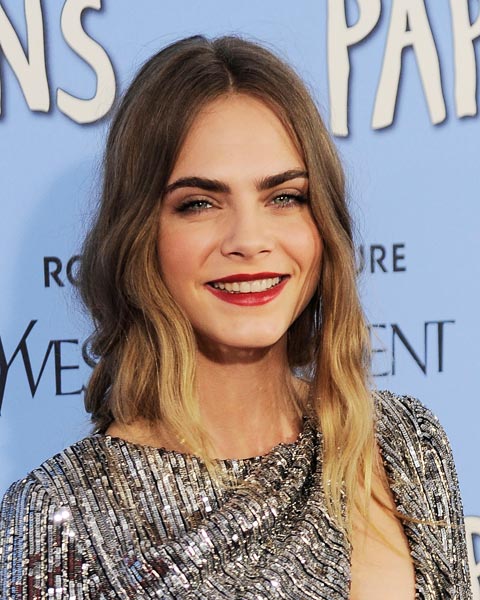 fig.: Actress and face of YSL Beauté Cara Delevingne on the red carpet at the premiere of 'Paper Towns' at AMC Loews Lincoln Square, NYC on 21 July 2015. The event was hosted by Twentieth Century Fox and YSL Rouge Pur Couture. Photo: Nicholas Hunt / PatrickMcMullan.com; (C) Patrick McMullan.
On 21 July, Cara Delevingne appeared with makeup created by celebrity artist Molly R. Stern on the red carpet at the New York premiere of the movie 'Paper Towns' wherein the fashion and beauty trendsetter plays one of the main characters. (The movie is going to be released in many countries around the 23rd, 24th July; dates.)
'Paper Towns' is one from a longer list of new movie productions which were or will be released this and next year with Cara Delevingne starring. It looks as if the model and trendsetter has entered successfully the film industry stage! The character in 'Paper Towns' is her first main role. (List of music video, TV and movie productions with the actress.)
For her publicity tour in New York, Delevingne collaborated with celebrity and editorial makeup artist Molly R. Stern whose claim is to "inspire women to see themselves as they want to be seen."
Molly R. Stern used products by Cara Delevingne's beauty industry partner YSL; the items are from the current collection by Yves Saint Laurent Beauté Creative Director Lloyd Simmonds. In the center of Molly R. Stern's creation are the red lips (Rouge Pur Couture #14).
And as nobody is perfect, several skin correctors were applied by Molly - from Le Teint Touche #Eclat BR 30, over Touche Éclat #1 for highlighting the eye area to Touche #Eclat Blur Primer and Blur Perfector for the retouche of imperfections. For the fresh effect on the cheeks, the makeup artist used Blush Volupté #7.
On the picture above on view at Cara's makeup of the eyes, Couture Mono Eyeshadow #11 and #12 (last mentioned used by Molly for setting a point of light); the eye brows are slightly colored with Couture Brow #2; the volume of the eyelashes was intensified with Mascara Volume Effet Faux Cils #1.


more beautyme>