Sony and make-up artist Aimee Adams for the Oscar night, 20 February 2015

Sony's Oscar looks for 4K TVs by celebrity make-up artist Aimee Adams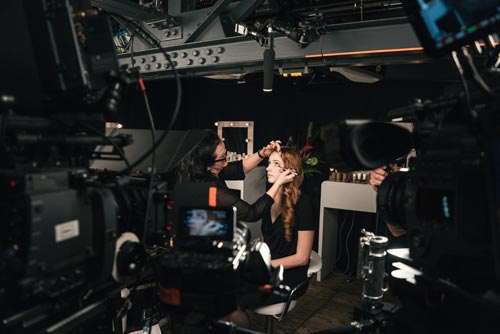 Today, Sony presented three make-up looks for the stage of the Oscar night on 22 February 2015. The looks were created by British celebrity make-up artist Aimee Adams who worked already for clients like Colin Firth, Robert Downey Jr, or Helen Mirren.
Aimee Adams was inspired by the nominees for best 'Actress - in a Leading Role', especially Julianne Moore (red hair), Felicity Jones (brunette) and Rosamund Pike (blonde) and developed the make-up for the high resolution of Sony Bravia 4K Ultra HD TVs which deliver very naturalistic images (four times higher than classical television). A challenge for make-up artists in the case of close ups under the bright light of the Oscar stage! According to Sony and Aimee Adams, the importance of color, detail and contrast grows with the new technology. The 4K looks were created as a quasi test of make-up for the new technology.
fig.: Sony revealed the 4K looks inspired by the Oscars at The Sony Centre Pinewood Studios, London on 20 February 2015. On the image above right, make-up artist Aimee Adams and model in front of cameras and under light. Below, image before and with Adams' 4K make-up inspired by Oscar nominee Julianne Moore. Photos: (C) Mikael Buck.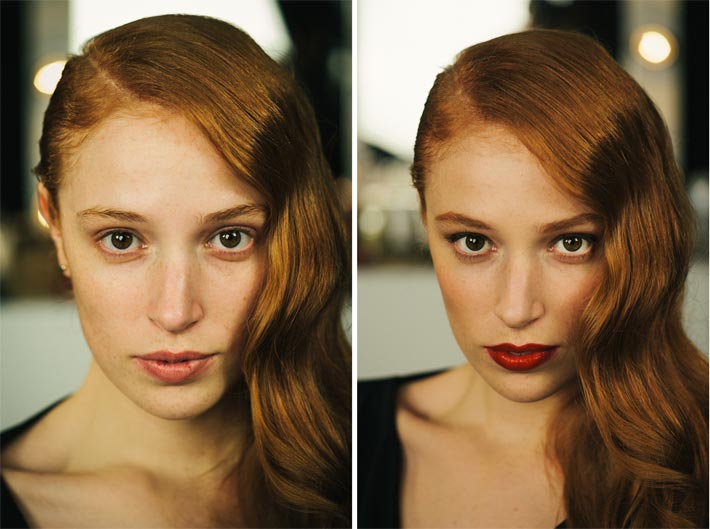 more beautyme>