The new lightness in beauty and fashion
The upcoming spring 2015 looks celebrate lightness in colors and form. Pantone entitles the spring 2015 color scheme 'En Plein Air' - in the open air, and describes the soft, cool tones as invitation to escape from the daily stress (Fashionoffice article 'Fashion beach impressions'). The pieces on this page were collected under the motto 'Lightness and Escapism' from MAC Cosmetics, Silhouette, Wolford, Bulgari, New Balance and Schokokaviar; the main color: toasted almond.

(Selected at the end of December 2014, closer information below.)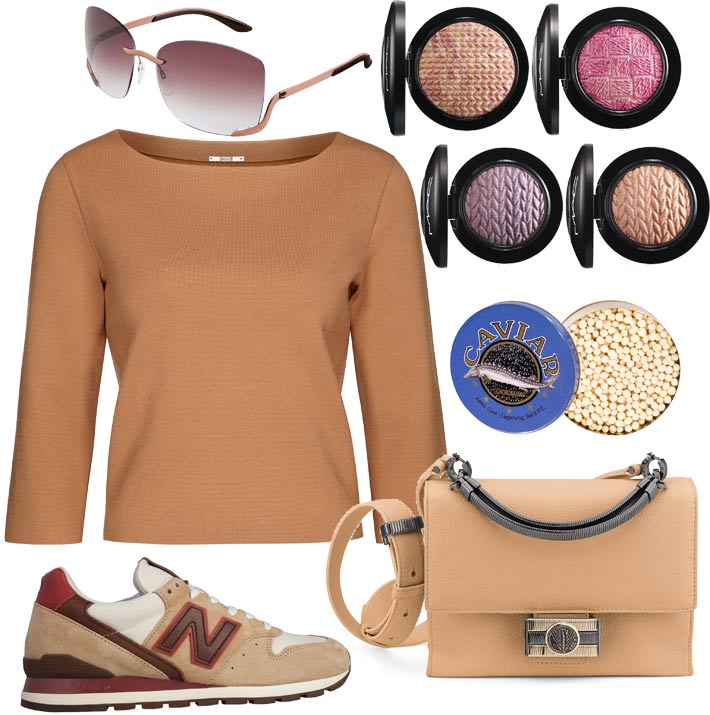 fig.: The beauty items are from the new MAC Cosmetics collection 'Lightness of Being' which will be available in stores and online in limited edition in January and February 2015 (in Austria). The knit patterns of the skin finish, blush and two eye shadows reference the relaxed style of living with ease. From above left, clockwise: Mineralize Skin Finish 'Perfect Topping' (shimmery off-white with light pink/blue/yellow marble), Mineralize Blush 'Please Yourself' (light pink with plum marble), two Mineralize Eye Shadows, 'Leap' in lavender and 'Natural Vigor' in champagne peach.
Sunglasses 'Allure', frame in matte gold, glasses in smoky lilac, by Silhouette. (Photo: (C) Silhouette.)
The pullover 'Lia' in toasted almond color and in minimalist cut inspired by 70s futuristic style is from the Spring/Summer 2015 collection by Wolford (in shops now).
'Tubogas Monete' flap cover bag in toasted almond full grain calf leather with Monete closure set in
ultrablack ruthenium and pink gold plated Tubogas frame; Bulgari Spring/Summer 2015 (in stores now). Photo: (C) BVLGARI.
Sneakers by New Balance from the new Fall/Winter 2015/16 collection. (Photo provided by www.chrissports.eu; (C) New Balance Athletic Shoe Inc.)
White chocolate caviar-balls with crispy cookie-core (for the caviar 'plopp') by Schokokaviar. Tipp by the producer: enjoy it with champagne. (Photo by schokokaviar.at.)


more beautyme>