Reviews of Alber Elbaz' make-up collection for Lancôme
On 24 May 2013, the forthcoming Lancôme x Alber Elbaz 'Hypnôse Show' eye make-up collection (eye shadows, mascaras, false eyelashes) is already best bespoken online. Writers from all over the world received samples and tested them - from Croatia (wet and dry test of the eye shadows) over Italy (richly depicted insights into the collection's packaging and press material) to Indonesia (the writer is a fan of the mascara). Extraordinary for the beauty market is the simultaneous release date of Lancôme's mascara bestsellers and new eye shadow palettes in outfit (packaging) created by Alber Elbaz - the false lashes are created by the couturier himself; the collection seems to come out worldwide mainly on the same day: 15 June!
fig. below: Self-portrait of Alber Elbaz whose 'Hypnôse Show' make-up collection packaging and eyelashes for Lancôme were presented in May 2013 to the press.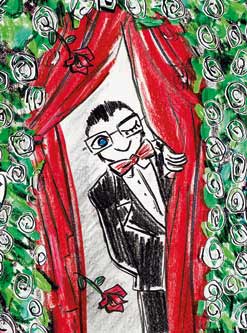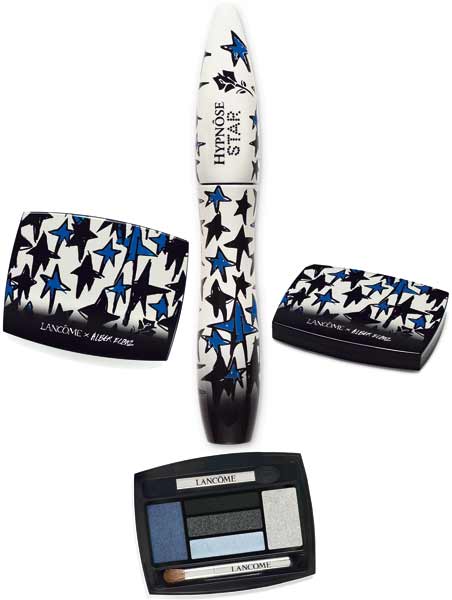 fig. above: 'Hypnôse Star' mascara and eye shadow palette (5 colors) from the collection 'Hypnôse Show' by Alber Elbaz for Lancôme. The organically formed packaging of the mascara and round-edged box of the eye shadow are illustrated with blue and black stars. The design of the 'Hypnôse Star' packaging pays homage to the glamour of the film industry and the 'Hollywood-look'.

fig. below: False lashes from the collection 'Hypnôse Show' created by Alber Elbaz for Lancôme in a box that is illustrated with the couturier's sketches, release on 15 June 2013. The illustration of the packaging shows the front row at a couture runway with ladies in black dresses and wide opened eyes. In between, three mascaras from the make-up collection topped by ladies' heads. The illustrations' story board, filmic side (right on the box) references the delays at/of couture shows: "Darling, darling!!! I'm so late."

(By the way and only if you haven't read it already somewhere else: it is announced that the film by Alber Elbaz about Lancôme will be unveiled online on 3rd June.)