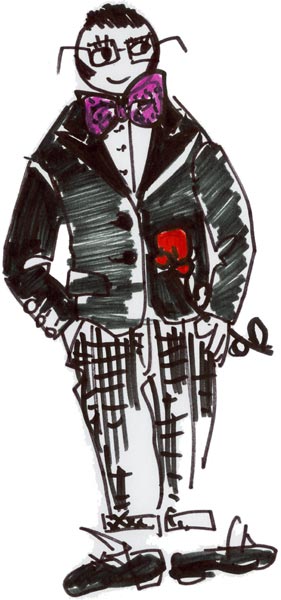 Fashion sketches in action for luxury beauty collection
On 14 January 2013, Alber Elbaz and Lancôme presented the new collaborative beauty collection with an animated pictures short-film about fashion people at a couture show (video below).
Alber Elbaz, artistic director at Paris-based high fashion house Lanvin (Elbaz directed the much-noticed collaboration between H&M and Maison Lanvin in 2010), and French beauty brand Lancôme announce that the upcoming make-up collection will be created by Alber Elbaz in the designer's 'Couture-Art' style which is developed from a new, contemporary approach to the definition of luxury.
fig.: The illustration shows the portrait of Alber Elbaz. Photo: (C) Lancôme x Alber Elbaz / 2013.

The teaser video (published today on 14 January 2013) is an animated pictures film. It introduces with fashion sketches 'in action' (fashion people in the front row at a couture show) into the Parisian luxury fashion-beauty collaboration. The make-up collection will be released on 15 June 2013.