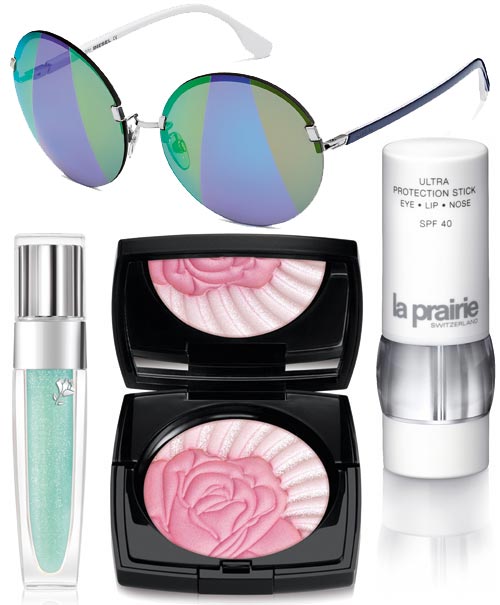 SPRING STYLE
spring/summer 2012
Here comes the sun!
In February, the first warm sun rays touch the skin. It's time to check the spring/summer protection and beauty equipment:
Is the SPF 40 stick from last year still unexpired?
Are the sunglasses really protective for the eyes (ask your optician) or chic only?
Trend-developers advice for 2012 make up colors in a frosty-warm mix such as the ice-green lip gloss with rosé-peach rouge for a fresh, sunny spring look.
The comfortable fashion in metropolitan trains and on city bikes has inspired Haute Perfumery for light scents made of eco-certified compositions.

fig. from above:
The psychedelic 60ies vintage sunglasses remember the legendary lifestyle of Woodstock; by Diesel SS2012. The glasses are produced by the Italian eyewear manufacturer Marcolin which collaborates with several labels such as Timberland, Montblanc, Tom Ford, Miss Sixty, etc.
The 'Color Fever Gloss' in transparent frosty 'Green Petal' is designed by Aaron De Mey, Lancôme Artistic Make-up Director. The creation is derived from dewy blossoms in the early morning in a rose garden; by Lancôme SS2012. Photo: Christian Vigier.
'La Roseraie' rouge-powder in two colors: in rosé and in peach; by Lancôme SS2012. The rosé colored powder is packed as 3-dimensional rose. It is adviced to apply at first a mix of the two colors over the face and in a second step rosé only on the cheeks, nose, front, and chin. The rose is the symbol of Lancôme. The story behind is that the rose garden was the favorite place of Nelly Petitjean, the wife of the founder of Lancôme Armand Petitjean.
Ultra Protection Stick SPF 40 for the handbag or pocket; by La Prairie (comes into stores in late February 2012). Apply it on the lips, nose, eyes, and ears the whole day through.
100% bio Eau de Parfum 'Vamp à NY' by Honoré Des Prés (founded 2008 in Paris) pays tribute to New York not only with its name but even with its packaging which consists of a coffee cup in brown paper bag. The 100% natural ingredients (received the ECO CERT label) are composed by Olivia Giacobetti: tuberose, rum, bourbon vanilla, benjoin, Perou Balm, Tolu Balm.