Fashionoffice likes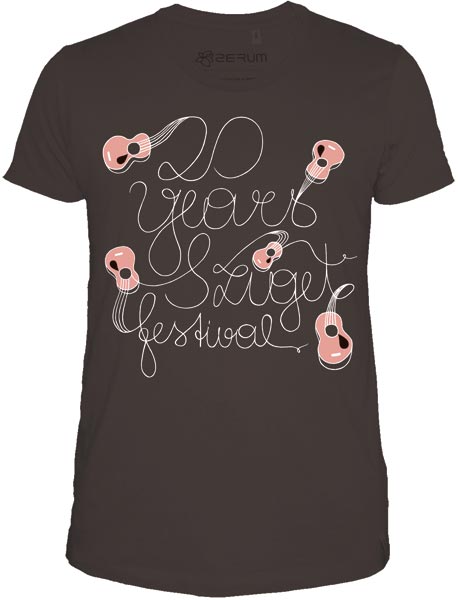 Music Festivals
...such as the Sziget Festival from 6 to 13 August 2012 on the Óbudai Island in Budapest (Hungary) where artists like Korn, The Horrors, The Vaccines, Placebo, etc will perform at over 50 locations (schedules on szigetfestival.com).
Fashionoffice collected some festival fashion and beauty pieces like soft glowing skin care, decent perfume, a folding bike that can be easily packed into the car, and a cooling bag for beverages and snacks.
On occasion of the music festival's 20th anniversary, Sziget presents the 'Sziget Festival Shirt 2012' which was designed by Nina Markart, the winner of the anniversary shirt-competition. Her illustration convinced the jury and the users of the online voting.
fig.: 'Guitar Clash' illustration by Nina Markart for the 'Sziget Festival Shirt 2012'; the limited edition of 400 pieces is available from mid-April onwards. Photo: (C) Nina Markart. The 'Guitar Clash' screen prints are applied by hand on fairtrade bio-cotton shirts. Producer is the Austrian label Zerum which works with certified bio-materials and produces the pieces under fair trade guidelines and with green renewable energy (wind-, solar- and biomass energy). Zerum appears even as retailer (on- and offline) of the shirts.
Sziget-concerts in Vienna in April and May: Sziget invites to a concert series in Vienna starting
with Dan Mangan on 17 April at Fluc,

continued with Voodoo-New Orleans-groove by Mardi Gras.bb on 26 April at Szene,

and electronic music by Austra with the glass-breaking opera-singer inspired voice by the Canadian Katie Stelmanis on 28 May at the Arena.

fig.: The MINI Folding Bike is designed for the storage space of cars. This way it is easier to explore cities or for example a festival terrain. BMW provides for the extended mobility a Cooling Bag in Brit-chic design (bag photo: Wolfgang Riess). Bike and bag are from the MINI Lifestyle Collection; photos: (C) BMW AG.
'Cellular Treatment Liquid Soft Glow' by La Prairie is a moisturizing fluid with shimmer effects for a silky appeal of the skin; arrives in stores in mid-April 2012. Use it over a serum and/or daily skin care.
The light, fresh, gentle (water flower), decent scent of 'Water Calligraphy' by Kilian is from the 'Asian Tales' perfume collection. The composition by perfumer Calice Becker pays tribute to water and its role in the art of calligraphy; it comes into shops in May 2012. The 'Asian Tales' collection is arranged as a series - like the name says, of Asian tales-fragrances such as 'Bamboo Harmony' which is inspired by 'the tale of the bamboo cutter' (release May 2012). It is announced that three further scents will follow; the perfumes are olfactory interpretations of the Asian tales 'the peony pavilion', 'the peach flowers water source', and 'the lotus flower and the dragon king'.