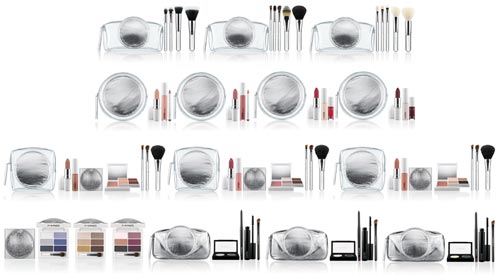 fig.: MAC Cosmetics ice parade from the 'Glitter & Ice'-collection 2011; limited edition in winter 2011.
The festival kits (third row from above) in snowglobe design contain products which glitter in gold and silver on eyes and flesh with pink and reds on lips... The color combinations are packed into 'warm', 'wintercool', and an exclusive 'frost' kit .
Sportive activities on ice and makeup
US Olympic ice skater Johnny Weir is the face of the 'Glitter & Ice'-collection 2011 by MAC Cosmetics.

The ice skater is known for activities in fashion and strong connections to the beauty scene. Johnny Weir's legendary performance in 2009/10 to Lady Gaga's 'Poker Face' has written sport-history. At the Olympic Winter Games in Vancouver in 2010 he has received no medal - but probably the loudest echo from the fashion world which discussed his ranking to the sixth place and if he shouldn't have deserved better notes for his performance.
fig.: Johnny Weir is the face of the MAC Cosmetics 'Glitter & Ice' makeup collection and performs in front of the camera in a striking pose showing his icy, frosty nail lacquer.