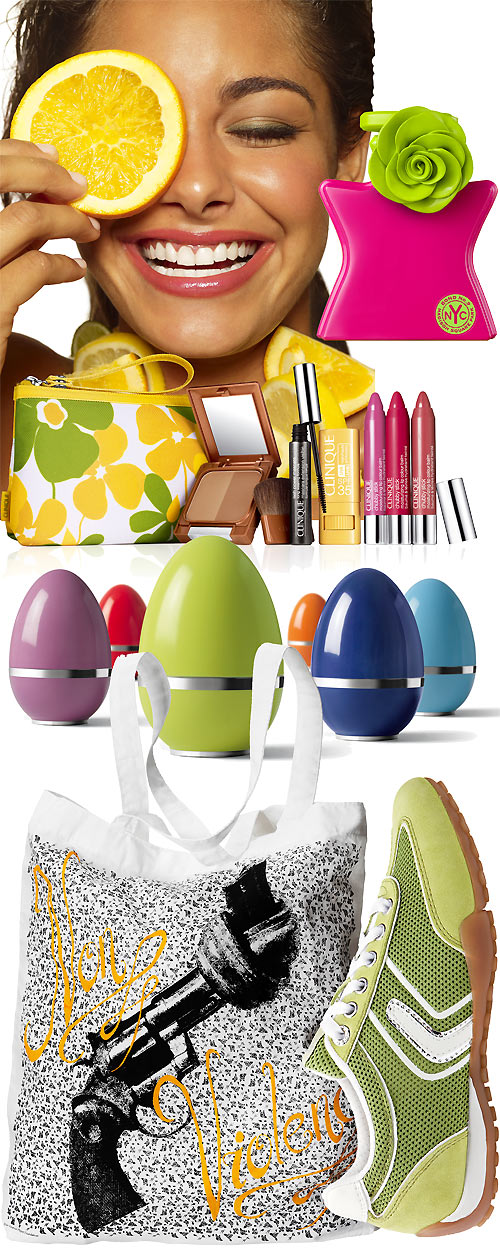 WOMEN STYLE
spring/summer 2011
cosmetics by Clinique
perfume by Bond No. 9
table ware by Sieger seen at Stamm
shoes by Geox
bag by H&M
Rebirth of nature

The following spring style is inspired by the tradition of Easter, which stands for peace and the recreation of life. Traditionally, Easter is celebrated by religious and non-religious groups each year in April. It's the time, when flowers begin to blossom. The ritual that children are searching for hidden eggs on Easter Sunday (this year on 24 April) is founded in the believe of rebirth.
fig. from above:
Clinique Summer-Trend 2011, comes into stores in May 2011. The woman's face is styled very natural. Her makeup consists of the powder 'Almost Bronzer' (available in two colors light and medium) with SPF 15 protection, the super strawberry colored moisturizing lip balm 'Chubby Stick', and black mascara. It is advised to apply protective care on the skin the whole day through. Clinique presents therefore the 'Targeted Protection Stick ' with sun protection factor 30. The stick is easy to handle and fits into the pocket of a jacket.
Eau de parfum 'Madison Square Park' with floral and green notes by Bond No.9, release in April 2011. The grass-green rose around the cap of the bottle is part of jewellery which can be worn as a bracelet or as a brooch. The perfumery Bond No. 9 is known for creating fragrances inspired by New York's districts. The new eau de parfum is an homage to the Madison Square Park (named for the president and principal author of the U.S. Constitution), which was very fashionable in the 19th century and celebrates now a revival as one of the city's hippest areas with new restaurants, bars, and boutiques. Bond No.9 publishes a more detailed history about this region in New York.
Matroschischka egg cups for keeping caviar cold, eggs warm, or olives fresh in porcelain by Fürstenberg from the Sieger 'Color'-collection, seen in March at the design shop Stamm in Vienna. On 25 March 2011, Stamm invites to a table culture event with pieces from the cobalt blue 'My China'-collection by the German design label Sieger. The porcelain pieces introduce with motifs from different ages, continents, flora and fauna to a 'fantastic journey'.
Bag 'No Violence' with the 'Knot Violence'-symbol by H&M, spring 2011. The 'Knot Violence'-symbol, originally created by Carl Fredrik Reuterswärd as an answer to the death of John Lennons, is in the meanwhile a general symbol for peace. H&M collects with the collection of t-shirts and accessories money for the 'Non violence project foundation'. 10% of the purchase goes to the foundation.
Green sneaker 'Snake' in mesh and suede with breathable sole by Geox, SS2011.


more beautyme>