MAC Cosmetics
fall 2009


"...anything that gets wet starts getting sexy." Marilyn Minter
New York based photographer Marilyn Minter (born 1948) was chosen alongside to painter Richard Phillips and illustrator Maira Kalman by MAC Cosmetics to visualize the new limited fall 2009 collection. The artists had been inspired by the new colors. Minter says in her interview on the website of MAC Cosmetics that she thinks that "...anything that gets wet starts getting sexy".
Each of the three artists has created an art work that is a practicable 'styling example' for the coming season: you can look heroic, venturous, playful, dramatic, etc.
Richard Phillips has used eye shadows, blushes and lipsticks to make-over the photo-realistic painted face of a (lying) woman; probably he has taken the lipstick 'Full Body' for coloring her lips in the shiny deep red plum and the light violet eye shadow 'Look at the eyes' for her half-opened eyes: is it a playful look or has the viewer be courageous?
Maira Kalman's 'diary' illustration is romantic and cheeky at the same time. Maira Kalman used eyeliners and eye shadows for the scenery of a woman sitting at a table with two flowers in a vase. It looks as if she has just stopped playing pick-up sticks to look straight into the eyes of the one who interrupts her private scenery, waiting until s/he has left. But her eyes have already charmed the viewer...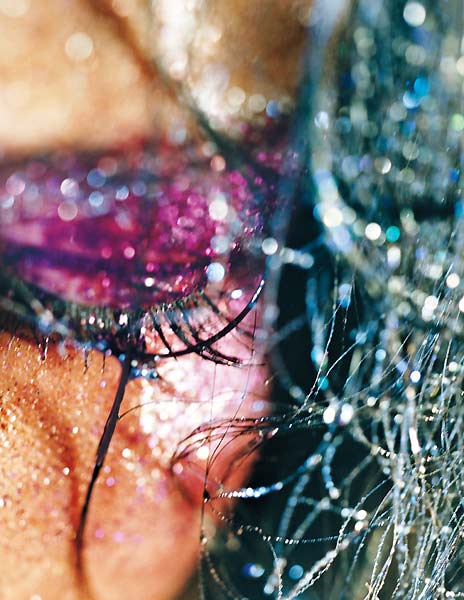 Dirt and sweat that
make women real
Marilyn Minter is one of the artists whose work delivers content for feminists. Her glamorous images are for some a follow up of the objectification of the female body as a hollow construct, while other feminists can see how she is embodying her images of women dressed in high heels, with over-colored lips and heavy glittering eyes by letting them interact with dirt and showing hyper-realistic how their bodies sweat. Minter was inspired for her MAC Cosmetics artwork mostly by the glamorous reflecting MAC Glitter.
fig.: Makeup Art Cosmetics by Marilyn Minter for MAC Cosmetics, Fall 2009.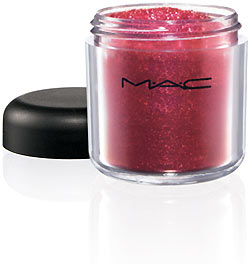 fig.: Reflects Glitter (sparkling warm red) from the Makeup Art Cosmetics collection by MAC Cosmetics, Fall 2009. The limited collection is available in September and October 2009.
On occasion of the exhibition 'New Work: Marilyn Minter' from 1 April through 24 July 2005 at The San Francisco Museum of Modern Art (SFMOMA), curatorial associate Joshua Shirkey said:
"Marilyn Minter has made a career out of pushing society's buttons. Her work has often taken an unpopular stance - for example, looking at domestic labor in the '80s and sexually explicit imagery in the early '90s. She has always been interested in blurring boundaries: between painting and photography, between commercial and fine art, between advertising and pornography..." www.sfmoma.org/press
/releases/exhibitions/236
Video: Official trailer 'Green Pink Caviar' by Marilyn Minter.

Madonna uses the video 'Green Pink Caviar' by Marilyn Minter on her Sticky & Sweet tour (watch youtube.com/watch?v=M9Q_2fdBmZI).

On www.maccosmetics.com you will find a video with artists' interviews and behind the scene pictures.


more beautyme>