HELENA RUBINSTEIN
summer 2009


Beauty design concept for 'Brilliant Women'
In summer 2009, the cosmetic and perfume brand Helena Rubinstein presented under the title 'Wanted' a 'starshine' collection for the lips and the brand's first perfume in the 21st century with Hollywood actress Demi Moore. Demi Moore represents a woman over 40 that is "certainly different from what people feel someone in her 40s should be", such as the actress is cited on Helena Rubinstein's website under the title 'Brilliant Women'.
The brand 'story' about extraordinary women begins with the founder of the brand itself. Helena Rubinstein is a beauty pioneer, born 1872 in Poland and died 1965 in New York, who has opened the first beauty salon, revolutionized the beauty advice at the point of sale, targeted skin care treatments according to skin type, invented the first automatic mascara, etc. On Wikipedia 'Helena Rubinstein' is mentioned that when she moved in 1908 to London expanding her business, she came with her own money, because women at this time could not obtain bank loans. Despite many barriers, the beauty industry was created by females such as the documentary about the giants Ellisabeth Arden and Helena Rubinstein 'The Powder and the Glory' (2009) shows.
Today, the beauty pioneer Helena Rubinstein inspires others such as couturier Andrew Gn, born 1966 in Singapore and the first Asian leading a French Fashion House (Balmain). "I chose her because she was a woman of perfect style, who wore couture and owned extravagant pieces of jewelry, yet she did not fit the classical definition of beauty." Andrew Gn fashionoffice.org/collections/2008/andrewgn12-2008.htm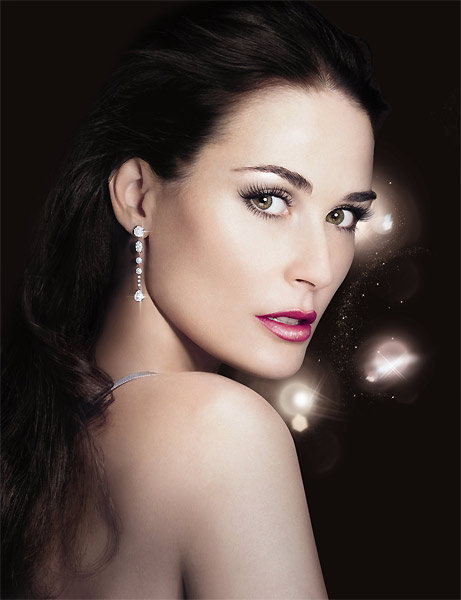 fig.: Demi Moore for 'Wanted Stellars' by Helena Rubinstein, summer 2009. The make up collection 'Wanted Stellars' shows the trendy purple color that succeeds on lips and clothes even in other leading fall/winter 2009 fashion and beauty collections. The golden sparkling metallics of the gloss and lipstick are the 'brilliant' signature design of Helena Rubinstein products; the starshine is personified by Hollywood Star Demi Moore.
fig.: Gloss and Lipstick 'Wanted Stellars' by Helena Rubinstein, summer 2009. The lipstick and gloss are available in several other 'cosmic' tones.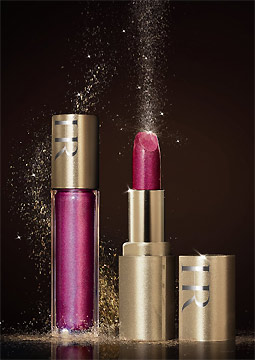 Again with Demi Moore in the leading role, Helena Rubinstein presented in 2009 the brand's first fragrance in the 21st century, composed by the French Dominique Ropion and the American (US) Carlos Benaim. The perfumers had been inspired by a story of a woman loving a man full of addiction (magnolia and wood), light (Ylang-Ylang), and sensuality (iris). On www.youtube.com/watch?v=Fx__f2Sjbpk you will find an interview with perfumer Dominique Ropion.
Video: Interview with designer Hervé Van der Streaten about the flacon for the new fragrance 'Wanted' by Helena Rubinstein, 2009.
The interview happens at the Parisian gallery of the designer, where he shows since 10 years furniture, jewellery, and objects.

On the website of Helena Rubinstein www.helenarubinstein.com under the category 'Live Brilliantly' is announced that the brand will take part (represented by the parent company L'Oreal) at the Women's Forum, 15 - 17 October 2009 in Deauville, France. This year the forum's theme is "Think again, think ahead! It is time for action, change and hope" www.womens-forum.com.


more beautyme>