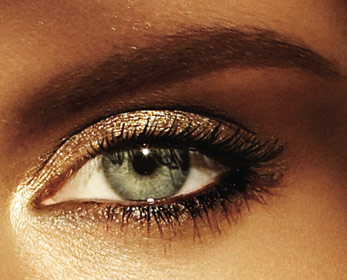 GUERLAIN
Terracotta Collection 2008

This year Guerlain celebrates 180 years perfumery and cosmetics made for the elegant woman. Year after year Guerlain brings out new collections. Terracotta is the name of one of Guerlain's product lines. It was developed to bring a healthy glow to your skin. This "sun kiss" comes without burning the skin under the sun!

For the Terracotta Collection 2008 with the title "Terracotta Soleils de Légende" Olivier Echaudemaison, Creative Director of Guerlain, created 3 looks which base on the pearly Sun Powders. He re-created the different light effects from three regions of our world: the Orient, India, and Africa. Terracotta Soleils de Légende is made for women who dream of faraway places.
Orient Sun To imagine this color think of a rose under the Oriental sun. The look with brilliantly metallic shimmering lips are inspired by women that have appeared in traditional Oriental prints throughout the ages.
Indian Bronze is inspired by Bollywood and created for the look of the golden stars:
"This satiny, sensual tanned look is achieved by using Terracotta Spray. Then, using Indian Bronze, brushed onto the upper cheekbones, the dimple of the chin and the outward curves of the forehead, the complexion is endowed with a golden sheen, for a look of 24-carat sensuality! This golden complexion is combined with a discreet look for the lips – which in turn helps to accentuate the fiery eyes even more effectively. Kohl is applied in layers to create truly captivating eyes: Noir Profond kohl is applied to the inner eye to enhance the effect of the iris, while Oriental Metal kohl is applied around the lashes. The result is eyes that have a smoky, intense, highly sensual look. And the silver shimmering effect of Oriental Metal around the eye makes this even more magical!" Olivier Echaudemaison
Africa Rythm is for the ones who love the ultra-bronzed effect. Wear it with a concentrated metallic brilliance on your eyelids. Bewitching!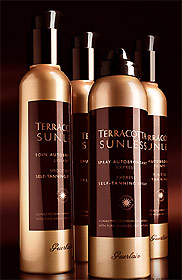 How to tan perfectly in about one hour with Terracotta Sunless:
Exfoliate your skin, apply it; smooth more lightly over joints (elbows and knees) to avoid marks. Wash your hands afterwards!
The Tinted Self-Tanning Gel is made for face and body. It creates an instant bronzing effect. One hour after application the skin is already deeply tanned. It reaches its most intense shade between 7 and 24 hours after the first application and the colour effect lasts for four days after application.


more beautyme>>>