22 May 2017

Bundy Bundy presents wedding hair style with fashion by Eva Poleschinski, headpieces by Miss Lillys Hats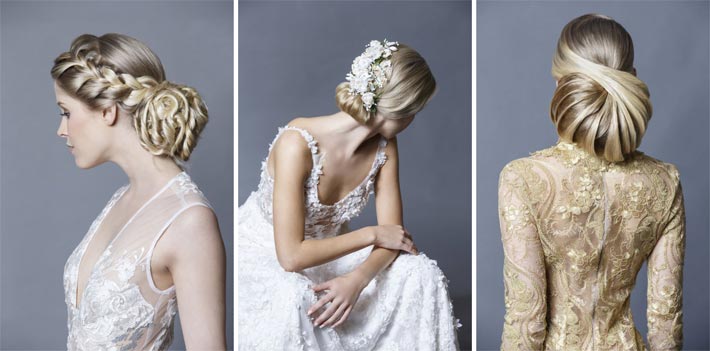 Bundy Bundy presents the collection of wedding hair styles 'Love is in the hair' created by the Austrian hair salon chain's artistic team with fashion by Vienna-based designer Eva Poleschinski and headpieces by Niki Osl's label Miss Lillys Hats. The images are made by Inge Prader who counts to the country's favorite fashion photographers and is a long-time collaborator of the hair artists. 'Love is in the hair' 2017 is elegant and reaches from Renaissance-like braided updos over romantic vintage flower power hair creations to modern structured decent color plays.
Bundy Bundy artistic team Creative Director Gerhard Kopfer's creations base on a multi-color strand look which applies visually depth as well as volume to the hair style. It's recommended to start with the planning of the styling of hair together with makeup, nail and eyelashes design for the perfect fit with the dress around six weeks before the wedding.
fig.: 'Love is in the hair' wedding style collection by salon chain Bundy Bundy; the hair style is offered together with makeup, nail and eyelashes design at the salons (stylists come to the bride's home on request). Fashion by Eva Poleschinski. Headpieces by Niki Osl / miss lillys hats. Photos: BUNDY BUNDY / Inge Prader.


more beautyme>