27 December 2017

Austrian cosmetics label 'Hands on Veggies' creates shampoos, shower and body care from naturally fermented ingredients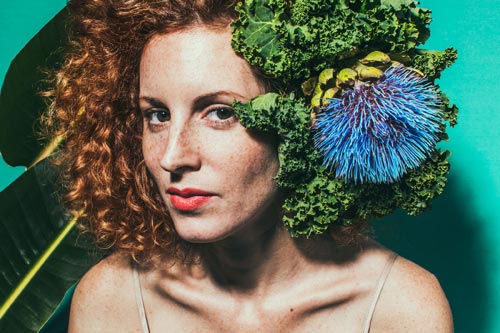 The all-female team members of the recently launched 'Hands on Veggies' cosmetics label have the power of natural ingredients for beauty products and the preservation of nature in their minds! Currently, three product categories - shampoos, shower gels and body mousses, made of fermented ingredients such as fermented chilli which benefits hair growth are available at the online shop and at selected retailers.
fig.: The 'Hands on Veggies' image shows a woman with vegetables in her hair. Photo: (C) Hands on Veggies.
The label was founded by Dr. Nicole Pircher and MMag. Lisa Dobler. Pircher is scientist in the field chemistry of natural resources and develops the formulas; Dobler is vegan specialist, publisher of Veganblatt.com and the mastermind behind the sustainable overall concept of Hands on Veggies. It's the two women's second label after the organic and vegan cosmetics brand 'Pure Skin Food' (available at douglas.at).
The Hands on Veggies products are designed for men and women and packed into recyclable tubes made of sugar cane with art works by painter and tattoo artist Carola Deutsch who mediates a very lively, juicy impression of powerful vegetables.
The embedded post below (from 22 November) shows a selection of products from the range: