21 August 2015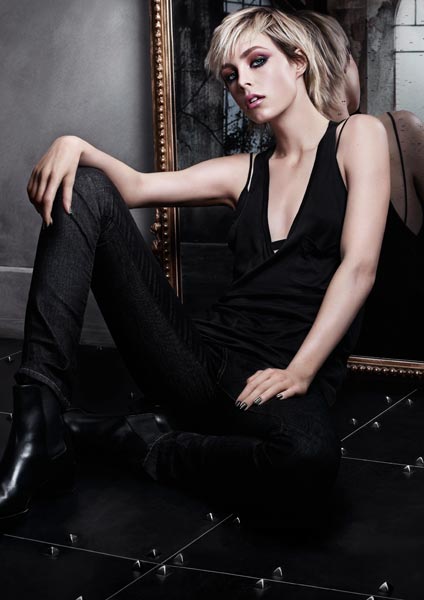 An alternative manicure: YSL metallic stickers for finger nails
The new Fall/Winter 2015 YSL Beauté makeup collection ' Pretty Metal' will be available from the end of August. Fashionoffice looked through the new pieces and at the application tips - especially if the products are easy to handle.
fig.: Edie Campbell is the face of the campaign for the Fall/Winter 2015 'Pretty Metal' YSL Beauté makeup in Neo-Grunge-Look.
Alongside to practical items like the always sharp 3-in-1 YSL Couture Kajal which can be used as khol, eyeliner and eye shadow as well (available in various colors), Creative Director Makeup YSL Beauté Lloyd Simmonds developed an easy to handle line even for the nails.
fig. below: The YSL Couture Metal Manicure will be released in two variations - one with silver rivet-like embellishments on black and the other with ornaments that make think of golden micro-chips; last mentioned come in an edition together with logo on black stickers. The 'Crystal Studs' and 'Gold Sequins' nail stickers can be applied without any further nail painting skills to all fingernails or only to one selected fingertip - according to the application tip by YSL: pull adhesive film, glue sticker on the nail and file in the form.