Boicut x Remington Indestructible Hair Clipper for Austrian Children's Cancer Aid, 10 February 2015

Boicut made a tapestry with the Remington Indestructible hair clipper for children's cancer aid charity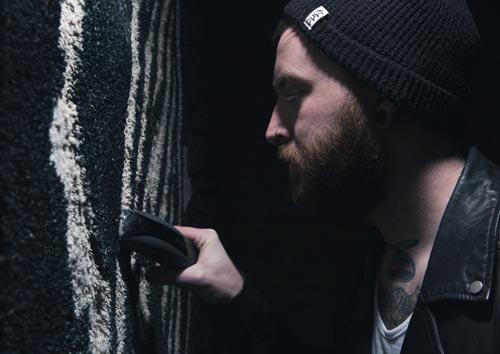 The making of the 'Indestructible Art' tapestry by Vienna-based artist Boicut happened already at the end of January 2015. For the 'Indestructible Art' tapestry, the artist and illustrator used the Remington HC 5880 Indestructible hair clipper; it looks like he is shaving a sheep (video below)!
fig.: The image shows Boicut shaving the tapestry. Photo: (C) wardanetwork.

It's not the first time that Boicut interacts with a product in an artistic way. On his website, Boicut lists examples of collaborations with labels like Levi's (bike art), Mostlikely (lampshades) or Paul Frank (eyewear).
The video of Boicut's art cut is amazing! The Middle Ages chorus with heavy-metal soundtrack (music by Sun & Flesh) intensifies the darkness of the dungeon-like staging where he walks down, grabs a chain which is conjunct with the Remington hair clipper and begins to shave the lines of a cockroach into the black colored textile yarns. The shaving happened for a good cause. The tapestry 'Indestructible Art by Boicut' is in Ebay-auction until 15 February 2015. All proceeds will go to the Austrian Children's Cancer Aid.