Short and gently graded hair
for the beach and hot days in the city
Today on 13 March 2014, Vienna headquartered Austrian hair salon chain Bundy Bundy presented the new Spring/Summer 2014 collection 'Fresh' with trends for short and long hair. Bundy's artistic team under the direction of Hannes Steinmetz is known for trend developments and art collaborations (such as the 'Rollenportraits'-series). Fashionoffice selected one trend which is practical for the beach as well as hot days in the city: the short and gently graded hair style. Bundy's cut technique focuses mainly on a lively look with natural volume that is achieved by graded hair beginning nearby the top of the head. The cut is intended for symmetrical, asymmetrical or wild styles such as on view on the images below.
Very nice is the fringy cut around the ears and at the neck. Bundy artistic and managing director Hannes Steinmetz said about the fringy cut: "This looks neat, but is not so accurate and masculine." Steinmetz' tip for 38° Celsius hot summer days: blow dry briefly by using only your fingers, change the hair dress easily by applying finishing products (wet gel, styling creme or paste) such as - very recommended for hot days, for the dandy-look with bangs styled back from the forehead.
Trend color summer 2014 is a very light silver-gold blonde. But such as Hannes Steinmetz confirmed in an interview about the new collection, there are women who look better with dark hair.
fig.: Selection from the hair style collection 'Fresh' SS2014 by Bundy Bundy, photographed by Inge Prader.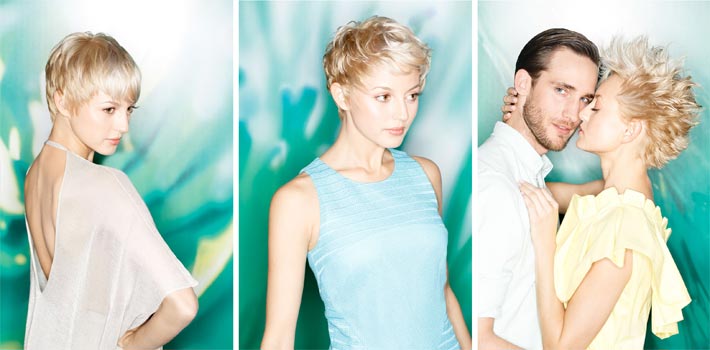 more beautyme>