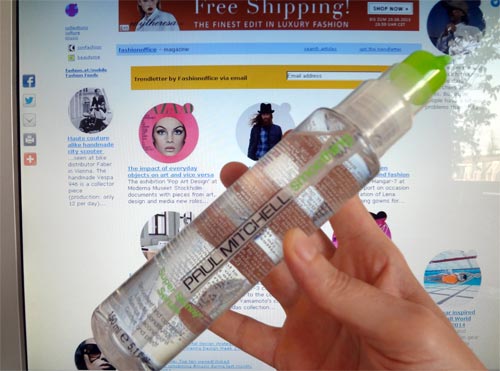 Hair Product Review by Karin Sawetz, publisher Fashionoffice
(23 August 2013)
Energy-saving hair drying
In the last days in Vienna, the morning air was filled with a fresh breeze - the first messenger of autumn and the colder days which are coming soon.
Hair drying on hot summer days is easy; in some cases - it belongs to the hair cut and the quality of the hair, the natural wind is the best hairdryer.
But as soon as the days are getting colder, the strategies have to be changed. During the last days, I tested the 'Super Skinny Serum' by Paul Mitchell. The product's silicones smooth the hairs with a shiny, almost slippery effect - without making them heavy, and the best: a small amount of the glossy, transparent serum shortens the drying time!