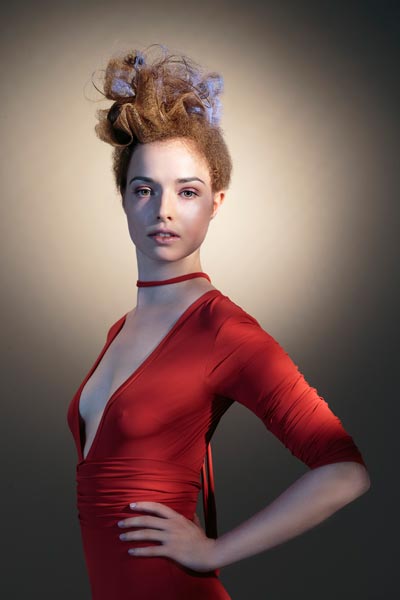 fig.: 'Hairy Tales' Haute Coiffure FW2013/14 by the artistic team of the Austrian hair salon chain Bundy Bundy. Artistic director: Hannes Steinmetz; creative directors: Gerhard Kopfer & Marietta Haselgrübler. Red fashion pieces by the Austrian designer duo Schella Kann. Photos: Inge Prader. Photo gallery on bundy.at.

Hair styles and art inspired by the story of Cinderella

...seen on 29 September 2013 at the new Haute Coiffure styles by Bundy Bundy and the art work by Mary Sibande at Biennale de Lyon.
In September 2013, the artistic team of the Austrian hair salon chain Bundy Bundy presented the new Haute Coiffure Fall/Winter 2013/14. This season, the hairdressers under the direction of Hannes Steinmetz were inspired by the latest Haute Couture fashion styles and fairy tales; especially brothers Grimm's 'Cinderella' story of a woman who turns by magic into a princess is mentioned by the artistic director.
Cinderella is a story which never goes out of fashion - and art; not because of the prince, but the ability of a woman to make her dreams reality such as seen at the work of young artist Mary Sibande who introduces currently viewers at Biennale de Lyon into social and political circumstances of living in South-Africa during and after apartheid. Sibande is doing that by using the metaphorical 'shoehorn' of the story about the magic of a woman's dream which turns her work dress into the ball gown of a queen.
Cinderella is a role model for self-determination. In brothers Grimm's tale, she had some helping hands around her. In an interview, artistic director Hannes Steinmetz was asked to name his favorite fairy tale. He answered: "Cinderella, which is all about a young woman turning into a princess. When I think about it, this was one of the reasons why I chose to become a hairdresser. I always strive to make the very best of what's available. At Bundy Bundy, I have Cinderella-like experiences every day. That's the beauty of my job."