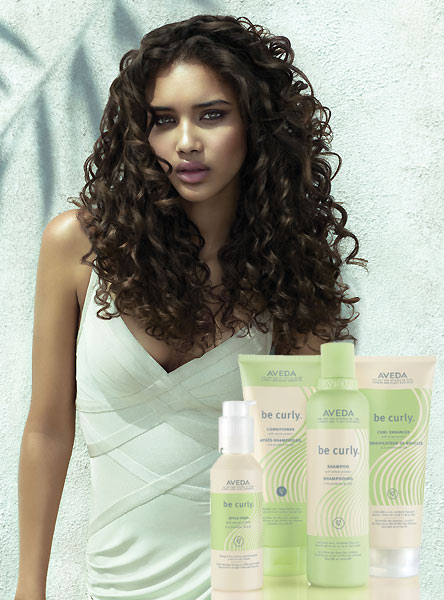 fig.: Be Curly Style-Prep with long-lasting anti-frizz-effect in group with Be Curly Shampoo, Be Curly Conditioner and Be Curly Curl Enhancer by Aveda. The Be Curly Style-Prep is available since March 2011 in salons and spas. The packaging is made of 100% post-consumer recycled PET from soda bottles.

HAIR and EARTH SIGHT
by publisher Karin Sawetz
on 22 March 2011
Karin Sawetz is journalist, media researcher and fashion scientist (Mag. Dr. phil.).

Treatment of humans and earth

Women's History Month 2011 in March is followed by Earth Month in April.
On occasion of the 100th anniversary of women's initiatives for their rights (each year on Women's Day on 8 March), US President Obama has proclaimed this year the whole month March officially as Women's History Month.
Women's steps to equality are small: in Austria, women have to pay until today for the same hair dressing service in some salons 35% more than men - even when they have a male hair cut and style. Albeit the fact that this is gender discriminating and against the European law, customers in Austria have no real chances to fight for the right to be treated equally; because no Austrian judge would break the national law and rules.
Despite such lapidary problems like unequal treatment at the hair dresser, and continued by enormous income differences (around 20% less money for women for the same work in Austria; according to the Austrian government at this time 15 to 18%), women worldwide have gained more self-determination than ever before.
In April, women and men are fighting together for the nature of our world. During Earth Month, especially beauty labels are traditionally the pioneers of good ideas for a greener and healthier earth. Such as Aveda in Germany; the label collects money for clean water projects with concerts at the Walk For Water 2011 in Munich on 3rd April and in Berlin on 17th April, a scarf designed by mongrels in common and of the Light the Way Candle, which are sold both in limited editions in Aveda salons und spas in Germany during Earth Month 2011.


more beautyme>>>