Ever thought why hair is breaking? The cold can be one of the reasons... Chris Mayer is stylist at the hair salon Die Wiener Friseure. His tips concern the prevention of damages...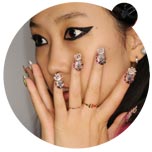 Nail art by CND for politically inspired Libertine SS17 The portrait of Libertine designer Johnson Hartig with crown on nails? Billboard and Hollywood Reporter's 'Pret-a-Reporter'...

Cold weather style inspired by AI robots of the movie Star Wars Three pieces are inspired by the most iconic AI robots in movie history, especially R2-D2 from the Star Wars movies....