11 September 2016

Perfume label Atkinsons teamed up with Silken Favours for nature and Arts & Crafts inspired prints
Silken Favours is this year's design collaboration partner of Atkinsons for the recently launched new limited edition of the interpretation of the label's signature fresh cologne '24 Old Bond Street'. The eau de cologne was originally composed by James Atkinson in the year 1800 and marks a historical milestone in perfumery as it's associated with the creation of the typical 'English Cologne'. 2013, the 1800 scent was re-released with some new notes derived from contemporary British lifestyle and chic.
The visual parts of the Atkinsons X Silken Favours perfume X print collaboration open additional chapters of British heritage and of the olfactory composition's source: from the title of the perfume '24 Old Bond Street' (the address of the ancestral home of Atkinsons in London), over the number of the limited edition (limited to 1799 items; 1799 is the year James Atkinson founded the brand), to the prints by Sliken Favours which show how much nature influences the creation of perfumery.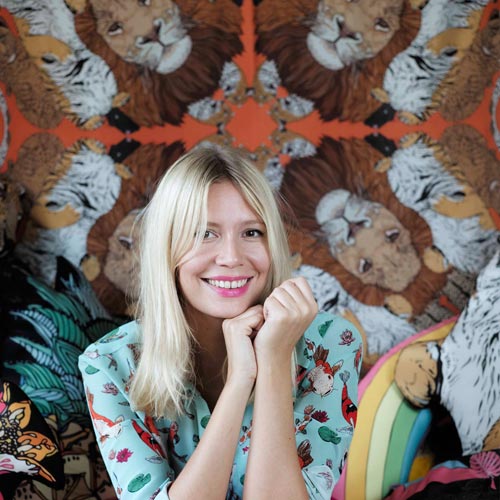 fig.: Silken Favours founder (2011) and artistic director Vicky Murdoch (portrait photo right) incorporated Atkinsons' logo bear into the Arts & Crafts inspired hand-painted illustrations of British nature for the designs of the package, bottle and silk scarf (image below). The illustrations make think of nature history or fairy tale books of the turn of the 19/20th century. The playful vintage drawings of British flora and fauna with birds on juniper branches, butterflies and bees around roses, dancing bears nearby the whisky casks, tell the olfactory story of the scent.
Atkinsons limited edition of '24 Old Bond Street' designed by Silken Favours was pre-launched earlier this month at Selfridges in London (pictures of the stand); the international launch is announced for November.