13 July 2016

New perfumes 2016 with accords of smoky tea, tobacco... presented at Park Hyatt in Vienna
Today at one of the boardrooms (picture on view below) of hotel Park Hyatt in Vienna, new perfumes were presented to the press. Some of the perfumes are brand new at the market or will be available from August, September or October.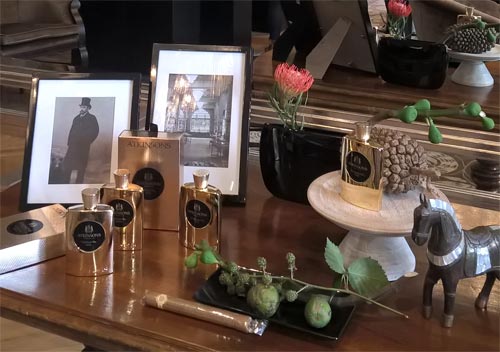 Already in selected high-perfumery stores are the new fragrances of 'The Oud' collection by Atkinsons (picture right). His Majesty is composed around the smoky accords of the tea Lapsang Souchong for the olfactory imagination of leather saddles. The fragrance is inspired by King Faisal I and Bedouin lifestyle. Her Majesty pays homage to British traveler Gertrude Bell who explored the region of Mesopotamia. Her Majesty is a classical oud perfume with floral (rose) and fruity (red fruit jam) layers.
fig. right: The image shows the table with the packaging, flacons of perfumes of The Oud collection by Atkinsons as well as the decoration with flower, fruits, a cigar, a horse sculpture and vintage photographs. On view at one of the photos is the portrait of James Atkinson who founded the company 1799 in London.
fig. below: A glimpse into Park Hyatt's Boardroom No. 3 where the presentation happened in a perfume salon-like atmosphere today. Poster left: The new Jimmy Choo eau de toilette 'Man Intense' is a lighthearted scent which opens with lavender and develops a warm aura with notes of tobacco (Tonka beans). The face of the campaign is Brazilian model Marlon Teixeira. 'Man Intense' will be available from September.
There were several other interesting scents sprayed on white paper stripes for tasting the new perfumes such as by Bond No. 9, Odin, Etro, Van Cleef & Arpels, Creed, Balmain, Boucheron. Each of them a high-perfumery product and available in beauty stores with exclusive ranges. In Austria, the perfumes can be found at Douglas, Nägele & Strubell, Marionnaud, Parfümerie Filz,... (store locator at top-exclusive.de).