12 October 2016

Artist Eva Petric's olfactory interpretation of the true love story once happened at Hotel Mount Lavinia in Sri Lanka
Fashionoffice met artist Eva Petric recently on occasion of a jewelry exhibition in Vienna. Now, world-traveling and in Vienna, New York living and working Eva Petric announces her latest fashion-beauty related project which will be launched this week on 15 October at Hotel Mount Lavinia in Sri Lanka. Even this project - like the jewelry items exhibited in Vienna, will combine elements of two different levels of perception, elements of the perception of the ephemeral emotional and the graspable material world. Instead of jewelry, Petric's canvas are perfume ingredients for painting a picture of a true love story which happened at the beginning of the 19th century in Ceylon, today Sri Lanka.
Several years ago, Eva Petric visited the hotel and was impressed by the country, it's people and the love story of Ceylon's British Governor Sir Thomas Maitland and Mestizo (a form of gypsy dance) dancer Lovinia (Lavinia) Aponsuwa who was born from Portuguese/Sinhalese parents. Lavinia belonged to the lowest caste of Sinhalese people; at that time 210 years ago, not the perfect start for a romance. The story of the Governor's palace (built 1806) with the secret underground tunnel to Lavinia's house is published on mountlaviniahotel.com.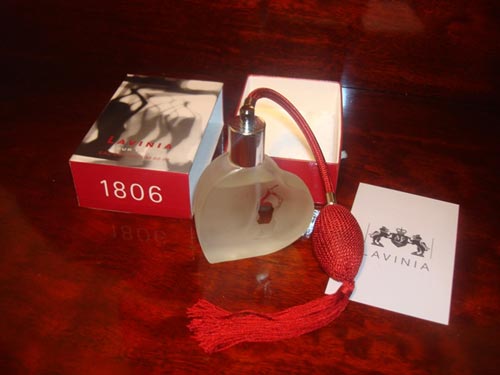 Eva Petric's 'Lavinia' was created on invitation of the hotel and will be released in limited edition.
fig. (Snapshot by Eva Petric): The women's scent is packed into a glass flacon in heart-form with red tassel spray. On view at the packaging, the year 1806 of the foundation of the palace 'Mount Lavinia' as well as the black and white photographic work 'Fiesta' showing an almost cinematic shadow arrangement of pictures of a dancing woman. 'Fiesta' is from Eva Petric's 'Gr@y Matter - language of shadows' series. The photographs are taken from the artist's own shadow. One of the dancing shadows is applied to the flacon. The shadows stand for the communication of realities which aren't measurable such as love.
The ingredients of the perfume are inspired by Eva Petric's 'Periodic Table of Shadowed Emotions', a sort of periodic table of elements such as known from chemistry. "I traveled twice to France, to Grasse to explore the creation of different fragrances and whether it would be possible to translate this table into one fragrance. More specifically, I was interested to create a fragrance, representing or constituting the emotion of Love made of many sub emotions, shadows..." explains Eva Petric and continues with insights into the art of perfumery: "What is for me extremely fascinating is that fragrance is chemistry, while the effects it produces and brings about is spirituality. Fragrance opens up even our most hidden emotions, bringing them to the surface, offering them for transformation, thus being potential. I think there is a lot more to be done still and discovered on these ideas."
Question (Fashionoffice): "How can the scent be described – spicy or floral…?"
Answer (Eva Petric): "It's a bit of both, and that is its charm I think, that it tends to move between the two: spicy and floral, back and forth, as both the heart and base notes of the perfume have ingredients that are both spicy and floral, including violette, bergamote, tonka bean, mandarine... The fragrance is like a shadow, moving, changing, jumping, tricking, appearing and then again disappearing..."


more beautyme>