4 December 2015

Jeremy Scott was inspired by an everyday product for the design of the flacon for the new couture scent Moschino Fresh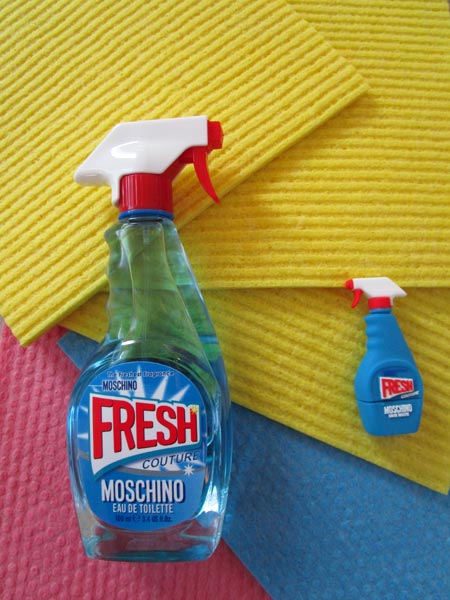 Design in perfumery has many levels; there is the packaging, the flacon, the scent itself, the communication inclusively marketing and photography which have to be planned, created and carried out. Moschino's Creative Director Jeremy Scott is one of the representatives of fashion designers who orchestrate the production of a wide range of lifestyle products from fashion over bags, shoes to beauty. He develops own collections, collaborates with various labels (such as Longchamp) and directs the team of Moschino for creations like the latest fragrance 'Moschino Fresh' which is inspired by the new Moschino Spring/Summer 2016 collection; the pop-cultural fashion anecdotes of various periods like the 50ies or 80ies were presented in a car wash staging this September in Milan. (Article about the show with statements by the designer on Dazed.)
The eau de toilette Moschino Fresh is already available in several countries such as at the iconic Parisian store Colette; from March 2016 in Austria. For the flacon of the refreshing fruity-floral-wooden scent (welcomes with the bright top notes mandarin, bergamot and exotic ylang-ylang), Jeremy Scott was inspired by an everyday product, the classical household cleaner. Even when the bottle looks as if it contains window cleaner, it's packed in a high-end product white carton box with golden stripe. Jeremy Scott fuses the imagination of 'low' and 'high' in one product; just like a provocation for the reflection upon classifications concerning 'mass market' and 'exclusivity'.
For the Moschino Fresh campaign, director Jeremy Scott collaborated with Steven Meisel (shot the campaign images and TV ad) and Linda Evangelista (video below). This is the communication the end user sees. For editorial writers, the eau de toilette came as sample in a box with household cleanser sponge cloths and small bottle which contains the USB-stick with press material (items of the media box on view at the photo on this page). Fashionoffice tested the scent: it's a happy, jaunty (the impression is probably caused by the long-lasting heart notes which are built upon the contrast of juicy raspberry and soft floral tones of white peony and osmanthus) and sunny composition on the base of clear woods, white patchouli and ambrox.

According to the press release it can be worn at work, for a date, a formal event, etc. Fashionoffice can confirm that Moschino Fresh is a fabulous everyday product.