31 August 2015

Perfume tip by Fashionoffice's Karin Sawetz:
gently fresh 'Gold Lily' by Shanghai Tang in an artful flacon with ceramics ball inside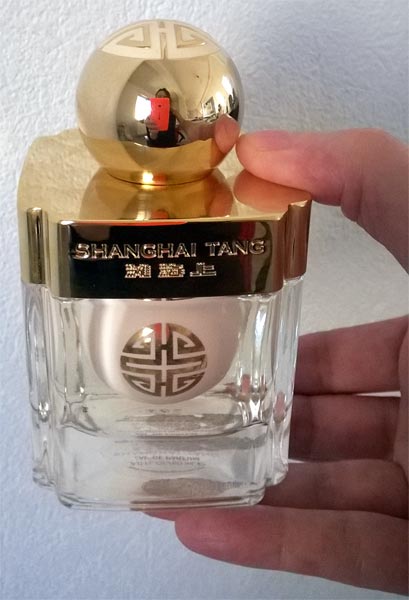 It's not only the concept of the perfume presentation in the artful flacon which tells the story of 'Long Life'; the ceramics ball inside forms together with the closure ball the symbolic number '8' which stands for luck and infinity. And even the cultural concept behind the flacon with the Chinese character Shòu (means 'longevity') and its application to the ceramics ball and the heavy metal closure which snaps in easily like powered by magnetism (reminds me of Chinese medicine or Qigong balls), are not the main reasons why I present the perfume today on this page.
I present it here because the 'Gold Lily' eau de parfum by Shanghai Tang is a fantastic scent I have appreciated to wear from morning to night hours during the last days after I received the item for testing last week. It cushions the body elegantly (musk, patchouli) in a fresh and decent flower bouquet of lilies, jasmine and orange blossoms. The composition by perfumer Carlos Benaim bases on 100% natural raw materials. 'Gold Lily' is from the 'Silk Road Fragrance Collection' by Chinese fashion label Shanghai Tang. The new collection is inspired by an adventure along the Silk Road - a 4,000 miles network of roads from Europe to China. More information about the Silk Road fragrances with ancient Silk Road map and a glimpse behind the scenes at campaign photographer Mario Testino's studio are published on shanghaitang.com.
fig.: I just made a snap shot of the 'Gold Lily' eau de parfum by Shanghai Tang while writing here on this text. The light and gentle scent will be available in selected exclusive perfumeries in Austria from September 2015.
Annotation on 28 September: Available in selected stores of the perfumery/cosmetics chain Nägele & Strubell from October.


more beautyme>