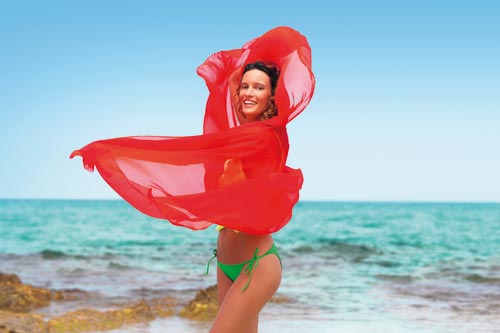 Fragrance for the beach in a bottle which is dressed in Clements Ribeiro
In April 2014, Lancaster presented the limited edition of the citrus-coconut-musky summer scent 'Sol Da Bahia' which is constructed for the application under sun. The fragrance by sun care specialist Lancaster doesn't protect from UVA or UVB rays but it won't cause skin irritations as it doesn't react with the sun. (So you will still need sun protection for the body and face!) The citrus, coconut accords and musky notes composition Sol Da Bahia (Eau d'Été) pays homage to the flavors of Brazil, its sunny beaches and environment; even with the graphical design of its packaging.
For the bottle, the box and the tubes of the shower gel and body lotion from the Sol Da Bahia line, Lancaster collaborated with the Anglo-Brazilian design duo Clements Ribeiro who dressed them into Art Deco tropical flower illustrations which are influenced by the lifestyle and flora of Rio de Janeiro; the city is even the main theme of the current Clements Ribeiro SS2014 women's collection of items like ruffled skirts and football jersey t-shirts (video and closer description). For the beauty packaging, the designers Suzanne Clements from UK und Brazilian Inacio Ribeiro (they met during their studies at Central Saint Martins in London, married later and founded the label Clements Ribeiro) used as inspiration an original Art Deco wallpaper pattern and re-worked it with tropical plants and fruits for the expression of their view on Brazil.
Photos provided by Lancaster.