Vienna Insight by Karin Sawetz, publisher Fashionoffice (5 November 2014)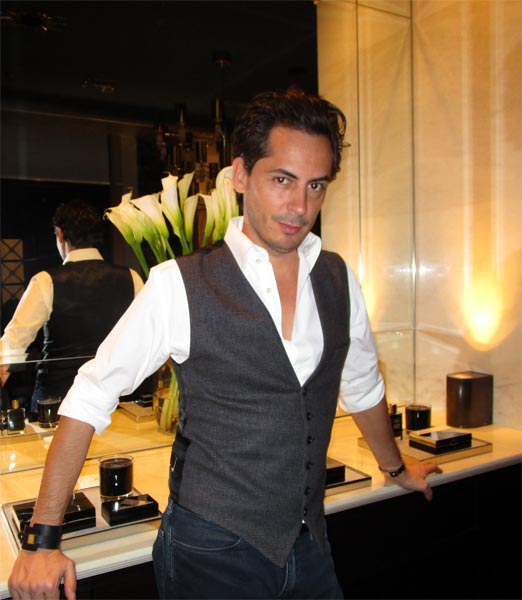 Tobacco, coffee, cannabis inspired perfumes, scented jewellery and the idea of eco-luxury
...were the topics at the press conference on occasion of the launch of the new collections of the French perfume house Kilian at hotel Park Hyatt in Vienna. The creator of the collections Kilian Hennessy (image right) spoke about his ideas behind the compositions of the new perfumes, the creation of scented jewellery and the concept of eco-luxury in perfumery.
"Throwing something away isn't luxury," is the house's mission; and so the perfume bottles or candle sleeves can be refilled (at home or at one of the Kilian counters like at Harrods in London or the label's own boutiques in Paris or New York). This helps not only to reduce waste on the planet - it saves the customers' money.
The scented jewellery was born from a similar holistic view of applying an importance to the things that are around us every day even when they are not visible (like the effects of waste on earth's nature - well, not immediately). "Putting the bottle [note: from the perfume collection 'In the Garden of the Good and Evil'] into a clutch was the first step," explained Kilian Hennessy the concept of making perfumes visible. The brand's next step was the scented jewellery collection of necklaces, leather bracelets (with two exclusively composed scent notes) and absolutely new, the 'Studio 54' disco ball inspired earrings, rings and bracelets which are decorated with Swarovski crystals and can be scented after individual choice with one of Kilian's perfumes or any other; my favorite is the ring which makes me think of the Renaissance poison rings of times of the Medici (view it online).
'Intoxicated' (coffee/cinnamon blend inspired by Turkish coffee; can be used by women and men), 'Light My Fire' (cigar tobacco composition inspired by 1970ies scents; a very male touch) and 'Smoke for the Soul' (composed after the aroma of cannabis; and no, there wasn't used any cannabis at all for the composition) are the three new perfumes of the 'Addictive State of Mind' collection which is available at Kilian stores in Paris, New York (at selected perfumeries in Austria in March 2015). My favorite of the three perfumes: the 'Smoke for the Soul' fragrance - because of the blood circulation supporting ingredients eucalyptus and thyme; what else!

more beautyme>