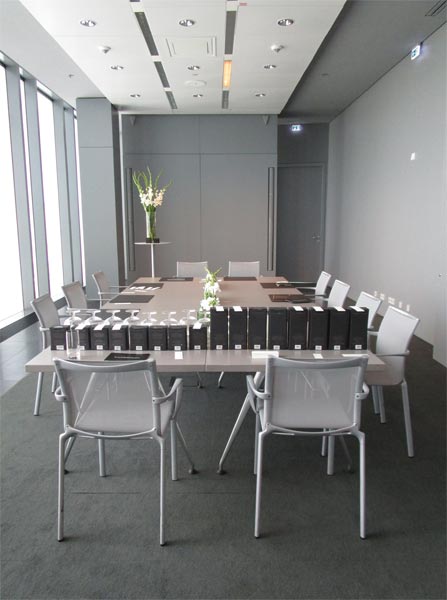 Perfume Sight
by Karin Sawetz, publisher Fashionoffice (12 August 2014)

A lesson in perfumery
Learning never ends! On the first sight, the Niemeyer Suite at Hotel Sofitel with large table and writing material in front of each chair had the appeal of a seminar room; they handed out memo pad, pen, and the folder with the description of Illuminum's collection of perfumes which are now also available at the shop for haute perfumery 'Le Parfum' in Vienna. The 'instructor' of the perfumery lesson was the label's fragrance specialist himself Bart Pawlak (image below) who guided the journalists through 16 scents - eight from the 'Vaporizer'-collection and eight of the 'Haute Perfume'-line. The scents were presented on test-papers in cognac glasses where they spread their auras - better than on the classical test-papers without glass around! The expert Bart Pawlak spoke about the
ingredients (the label's approach are scents which reflect the natural environment and not the chemical aroma world),
the challenge to create extraordinary scents like 'Wild Tobacco' (a scent which seems to be more interesting for men - although the perfumes are all unisex),
Bart Pawlak said that he tests fragrances in various climates (and mentioned 'Tomato Leaf' which was the favorite perfume at the table that day)
and he spoke about the composer's idea of the person who will wear the scent (such as 'Black Musk' which was created for very confident persons who like to stand out, or the sexy 'Black Oud' with its animalistic notes).
The collection consists of very different fragrances. To make it easier to find the right scent, the flacons of the Illuminum fragrances carry symbols which signify the categories floral, citrus (like 'Tomato Leaf'), musk and oud (e.g. 'Wild Tobacco'). I asked Bart Pawlak why they had chosen the brand name 'Illuminum'. He said: "We believe in knowledge'.