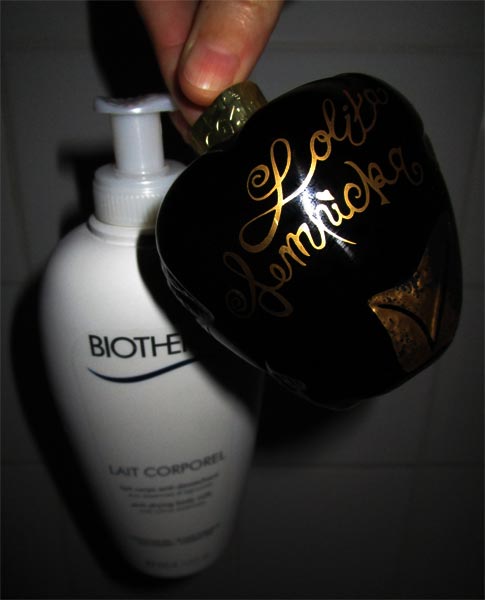 Fragrance tip
by Karin Sawetz, publisher Fashionoffice
(3 November 2014)

Choosing body lotion and perfume for the fresh start into the day
Perfumes come and go - but some of the principles how to choose and apply them are valid through the years; even when the rules change with seasons. Best example for the changing rules are the colder days of autumn/winter when ingredients of scents are often composed for warming the soul and wrapping the body into a soft cushioning invisible layer. But it's not only the perfume which brings the right kick in the morning. What counts is the combination with the body lotion to turn the bathroom into a daily spa experience. It can be a mess when the scent of the lotion conquers the perfume!
I found a combination I really like; Biotherm's Lait Corporel with citrus essences (which stay on the body only for a short time - but long enough for a boost in the morning) in combination with the eau de parfum 'Minuit Noir' by Lolita Lempicka (launched in October 2010, limited edition). Unfortunately, the 'Minuit Noir' sexy mix of spicy and floral notes with patchouli (it makes think of chocolate marzipan-liquor) seems to be out of stock. Similar to the 'Minuit Noir' is the latest edition from the 'Midnight Fragrance'-series, the 'Eau de Minuit' (released 2013, limited edition).
Tip: It's an advantage to apply the perfume right after the shower (with exfoliating accessories like bath gloves for strengthening and smoothing the skin) and body lotion on the inner sides of the knees and elbows: the fragrance evolves the whole day through in a subtle manner.