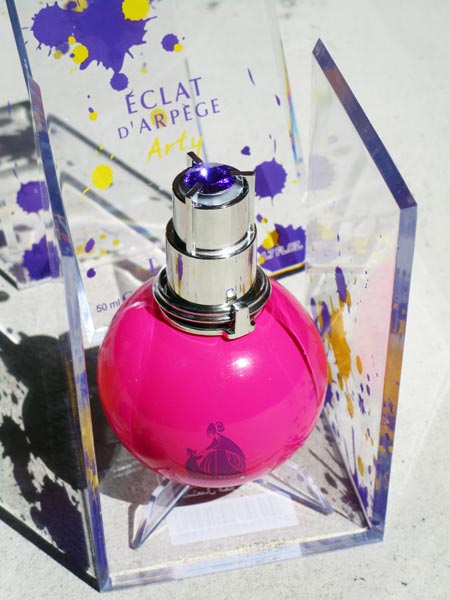 Art prints on couture perfume and everyday blouse
...seen in early July 2014 at the box of the sun-loaded perfume 'Éclat d'Arpège Arty' by Lanvin (comes into shops in limited edition at the end of July/early August) and at the blouse by Eterna from the next Spring/Summer 2015 collection.
Lanvin's uncomplicated, clean and happy scent is easy to wear! The longlasting fragrance stays as floral refresher the whole day through and fits also to sport activities. The pink bubble flacon is packed into acrylic glass with wild, modern art illustration by Lanvin's artistic director Alber Elbaz. The color splashes are like visualizations of the opening tones of the composition's top accords lilac and lemon. 'Arty' is not only refreshing; the multi-layered perfume has also very soft notes such as green tea or white musk which make it at the same time very comfortable.
The sketch on the pop-art sculpture-like flacon shows Jeanne Lanvin with her daughter Marguerite Marie Blanche. Jeanne Lanvin founded the house in 1889. The emblem was placed 1927 on the bottle of the first Arpège perfume on occasion of Marguerite Marie Blanche's 30th birthday. The closure is decorated - as reference to couture - with a lilac colored jewellery stone.
The second example for an art print is on view below at the blouse by Eterna (the shirt label started 1863 in Vienna). The white blouse with black modern art print is from the Spring/Summer 2015 collection and will be available next February.
Both, the perfume as well as the blouse have the touch of fresh, clean and spread irrepressible zest for life.