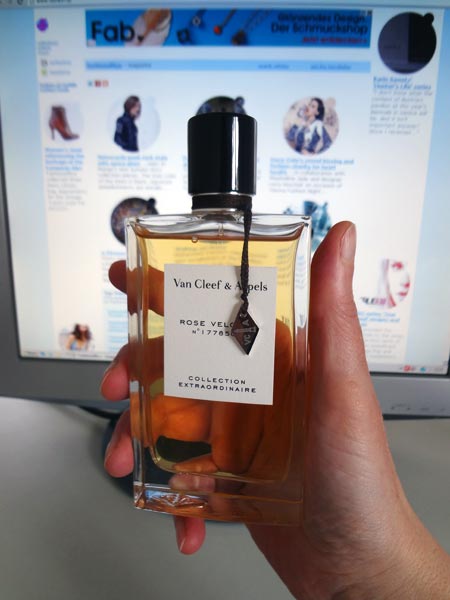 Perfume Check by Karin Sawetz, publisher Fashionoffice
(4 June 2013)
Exploring a scent
Currently I am exploring a new scent by Van Cleef & Arpels. The name of the eau de parfum is 'Rose Velours'. It is composed by Antoine Maisondieu and centers - such as the name suggests, around the rose.
The perfume is extraordinary. After approximately one week using it, I haven't finished my discovery of the scent. Each day, I am experiencing new facettes, notes.
Perfumer Antoine Maisondieu composed some masculine notes around the very female rose. The most important quasi counterpart and companion of the rose is the vanilla-warm-resin ('velours' alike) scent of benzoin. 'Rose Velours' changes through the day. It's just as if the notes bergamot, violet leaves, rose, orris, benzoin, ambroxan, cedarwood are role swapping. My experience is that 'Rose Velours' starts with refreshing effects (opening notes bergamot, violet leaves) and remains with various rose-honey accords the whole day through. It's an interesting perfume!
'Rose Velours' by Van Cleef & Arpels was launched at the end of May 2013. You can use it economically as it is a very rich scent.