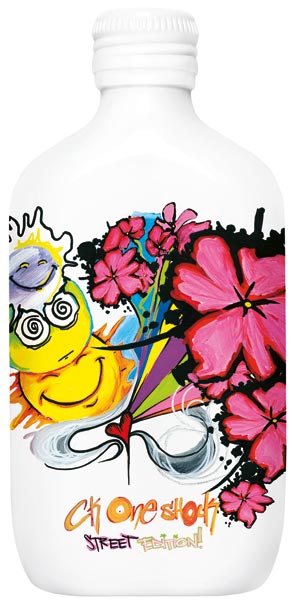 Feminism inspired artist and her work on a fragrance bottle
On 20 February 2013, Fashionoffice searched online for media reactions on the work by female graffiti artist Miss 163 (aka Sharon Lee De La Cruz) for the bottle of the new fragrance 'CK One Shock Street Edition for Her'.
fig.: The 'CK One Shock Street Edition for Her' bottle with illustration by Miss 163 was launched in early 2013. The bottle's street graffiti shows a smiling yellow figure with wide eyes, a pink-red flower bouquet and a red heart.
Only to mention the three best articles that were found after a fast check. Beyond The Pale reports about the graffiti master class which was held by Jorge 'Fabel' Pabon (artist of the CK One bottle for Him) on occasion of the launch of the Shock Street Edition and writes about the artist of Her bottle, Miss 163 (born in the South-Bronx, studied in Peru) and her activities for women's empowerment. The activities of Miss 163 are also the center theme on the Greek publication galsnguys.gr which mentions her current program 'Action' and the artist's membership in the graffiti women's group 'Maripussy Crew'. The editorial site and community 'Women You Should Know' posts a video showing Maripussy Crew in action and publishes an interview with Miss 163 where she speaks about her work, activism, the Woman Warrior Award and that she didn't view herself as a woman warrior "...but when the day came and I sat next to incredible women, I felt like one", Maripussy Crew, and about the beginning of the CK collaboration as one of six tastemakers at CK One.
Find the fragrances' main accords and user votes on Fragrantica for Her (and Him). The CK One Shock Street Edition will be available in Austria in mid-April 2013 exclusively at Douglas.


more beautyme>