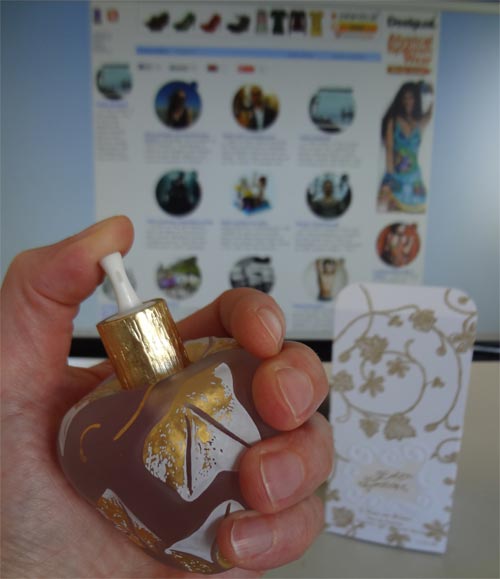 Perfume Sight by Karin Sawetz, publisher Fashionoffice (June 2012)

My new favorite perfume!
The powdry while light, clean and fruity scent 'L'Eau En Blanc' (Water in White) by Lolita Lempicka pushes you three or four levels upwards the happiness-scale - and keeps you there for around two or three hours.
The Eau de Parfum is packed in a handy flacon which is formed like an apple, colored in rosé, and decorated with white-golden lacy leaves. The limited edition is inspired by the style of the white, embroidered dresses from Lolita Lempicka's bridal wear line. L'Eau En Blanc was launched in May 2012.
'Lolita Lempicka' is the brand name for perfumes by the Paris based designer who worked before for such fashion houses like Cacharel. Lolita Lempicka is renown for her line of bridal wear 'Les Mariees de Lolita'. In 1997 Lempicka launched her first fragrance with the name 'Lolita'.
Romantic love and femininity with all facets - the mother, the daughter ('First Fragrance'), the lover ('Midnight Fragrance', 'Minuit Noir'), the mystical being such as the mermaid ('L by Lolita Lempicka') as symbol for endless love and the vital necessity for freedom, are the themes of Lolita Lempicka.