22 March 2016

Fashionoffice spring selection: beauty & fashion for city walks, cycling, pool bars and beach cafés
Fashionoffice collected some city/pool/beach pieces from the latest information which arrived at the magazine's mailboxes.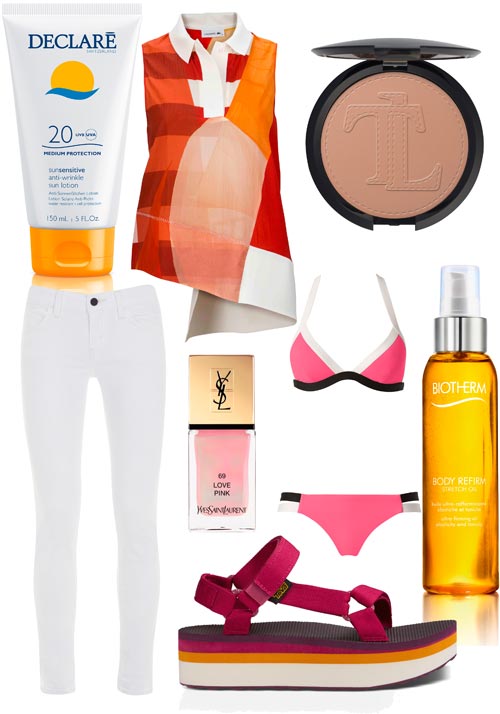 Shirt: McArthurGlen designer outlets present four trends this spring; one of them is 'Traveller' which combines comfort and functionality. The sleeveless, asymmetric polo shirt by Lacoste on this page is an exemplary item for the happy adventure style; seen at designer outlet Parndorf in Austria (for 140.- Euros instead of 200.-). Photo: McArthurGlen Designer Outlet Parndorf/Salzburg.
Shoes: These shoes are dedicated to nature! The label's name Teva means in Hebrew 'nature'. From May 2016, the retro music festivals inspired 'Flatform Universal' by Teva will be available. Dancing through the night on soft cushioned soles! The straps are adjustable.
Make-up: Also from May, the compact powder 'Terre Première' by T. LeClerc will be available. The bronzing powder of the 'Sun Vanity' collection protects with jojoba oil, SPF 15 and applies a sunny touch to the face and décolleté.
Nail lacquer: La Laque Couture 'The Opalescents' by YSL Beauté in rose mother-of-pearl 'Love Pink' of the 'Boho Stones' Spring Look 2016.
Body oil: The 'Body Refirm Stretch Oil' by Biotherm acts against stretch marks - like during pregnancy or weight losses - by firming the skin of the body. It's advised to massage it after the bath or shower. The oil's aromatic ingredients help to relax.
Jeans: The stretch jeans in white are from the 'Line 8' collection Spring/Summer 2016 by Levi's. Photo: (C) Eco2.
Sun lotion: Anti-wrinkle sun lotion (SPF 20, 25 or 30) by Declaré; recommended for sun protection of arms, shoulders, neck... while cycling, city walks or at the pool bar or beach café.
Sports bikini: 'Mughetto' in neoprene-optic in neon-pink, white and black by Calzedonia. (Photo: (C) Calzedonia).


more beautyme>