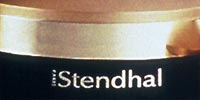 Uschi Hartlieb: Beauty Tipps
And I know – all women want to make sure to keeps their summer tan and summer body as long as possible. What helps? Hydration, Hydration and specific care, which supports the natural glow of your skin and which help keeping your summer silhouette.
I swear to the absolute Must Have in body care: Stendhal Pur Luxe.
This range offers four care products which moisturize, firm your skin
and give you a magic radiance. Stendhal's secret which is part of all four products is the Total Anti-Aging Complex. A combination of various ingredients which act efficiently on the major skin aging factors:
reduction in the loss of firmness
reduction in the loss of hydration
reduction in the loss of radioande