1 March 2018

Activities at Raphaela Pruckner's 'Hot Yoga' studios in Vienna: Yoga teacher training, workshops with traveling yoga teacher Adell Bridges, Hot Sculpt,...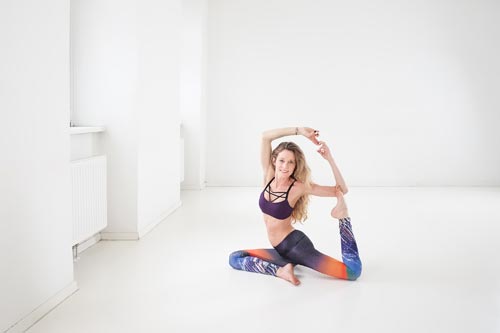 From 30° Celsius upwards, yogis can train at the two Hot Yoga studios founded by Raphaela Pruckner in Vienna. Raphaela Pruckner started with the first studio in 2012 at Gumpendorfer Strasse, 6th district, and in autumn 2017, the second studio at Lugeck in the city's 1st district has opened. Currently, Hot Yoga is expanding its team of more than ten trainers and searches additional teachers.
fig. right: 'Hot Yoga' founder Raphaela Pruckner in 'Mermaid' yoga pose. Photo: ©florianalbert.net.
Recently, Hot Yoga published several news such as the inclusion of 'Hot Sculpt' classes into the regular programme. Hot Sculpt is yoga in combination with cardio and muscle training exercised to modern music at classes with around 30°C room temperature.
Other news concern the upcoming workshop with yoga teacher Adell Bridges who stops during her yoga world tour (United States, United Kingdom, Mexico, Belgium, Italy, France,..) for three days in Austria for workshops from 25 until 27 May at Hot Yoga in Vienna (details).
Additionally to the classes for yogis who want relax and train their bodies, Hot Yoga starts in May the educational 'Hot Vinyasa Flow Yoga' training which ends with the graduation certificate for yoga teaching (information in English / German).
fig. below: 'Hot Yoga' team members at 'Hot Yoga' studio at Lugeck in Vienna.