15 July 2017

Anniversary artwork 'Kiehl's Loves Vienna' narrates the heritage of the beauty label and Vienna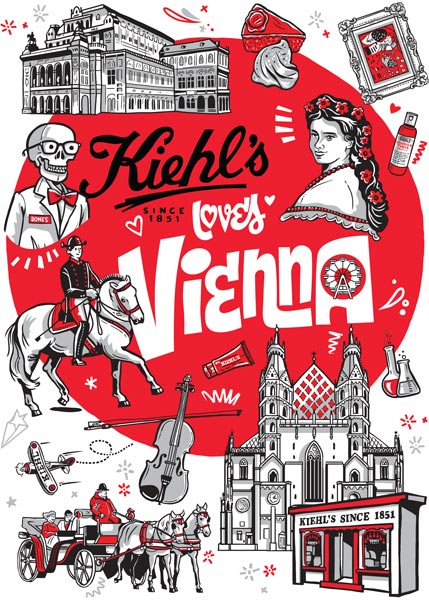 On occasion of the 10th anniversary of Kiehl's first flagship store in Vienna, the graphic designers at the New York headquarters of the legendary beauty label created the picture story 'Kiehl's Loves Vienna'. The artwork's style appears like a merger of narrative illustrations such as used in editorial magazines in the 19th/early 20th century and New York street art of the 1980ies.
Even the story itself is built on two threads which reflect the heritage of Kiehl's and the cultural history of Vienna founded on music, culinary, art, religion, etc.
fig.: Two figures are in the center of the work: left, a bone man called 'Mr. Bones' in white doctor coat and red bow tie. Mr. Bones references the science of the human body and stands for the charity activities of Kiehl's (Kiehl's was founded by John Kiehl as pharmacy in 1851). Right, empress Elisabeth (aka Sisi) counts to the most popular Austrians. She was one of the globally renown superstars with impact on fashion and beauty in the second half of the 19th century. Sisi reigned from 1854 until the end of the 19th century.
From top left clockwise:
The Vienna State Opera (built in the mid-19th century) is a symbol for the music treasures of Austria and the practice of high-cultural opera stagings. In 2015, the State Opera appeared in the movie 'Mission Impossible: Rouge Nation' with Tom Cruise (video of a stunt scene from the roof). For the world premiere of the Hollywood movie, the producers selected the Vienna State Opera. It was the first time ever that a US-blockbuster started with prominent guests in Vienna.
A piece of Sacher Torte by Hotel Sacher
The painting 'The Kiss' by Gustav Klimt carries on the one hand the story about avantgarde movements which grew on the country's soil, while on the other hand, works by Gustav Klimt call to mind that Austrians have faced governmental suppressions (keywords: expropriation during the Nazi regime, expulsion of intelligence like scientists, artists...).
Product in signature Kiehl's packaging which references apothecary goods
The 'Wiener Riesenrad' (Vienna Giant Ferris Wheel is incorporated into the A of Vienna. The Wiener Riesenrad appeared prominently in the post-war, beginning of cold war movie 'The Third Man' with Orson Welles (video scene playing inside a cabin of the wheel).
Laboratory glassware such as used by pharmacists
St. Stephen's Cathedral in the center of the old city of Vienna
Front view of the windows and entry of a Kiehl's store. The first store was opened in 1851 in New York at 13th Street/3rd Avenue where it is located until today.
Horse carriage (called in Vienna 'Fiaker')
A violin (Vienna connoisseurs might associate with the music instrument dancing the Viennese Waltz), an airplane and a rider on a Lipizaner of the Spanish Riding School of Vienna
The artwork 'Kiehl's Loves Vienna' is placed on two selected beauty products (the Creamy Eye Treatment with Avocado and the brand's Ultra Facial Cream), which will be available in limited edition from 4 August exclusively at the Kiehl's flagship store at Tuchlauben 23 in Vienna. The two products are accompanied by two customer gifts: tote bag and a coffee mug - both dressed with the same artwork.


more beautyme>